Our curated selection of thoughtful gifts is brimming with eco-friendly gift ideas for the whole family. From elegant ethical jewellery and luxurious leather accessories to decadent glassware and candles, our thoughtful collection of beautifully handcrafted gifts is sure to delight your loved ones on Christmas morning.
Christmas Gift Giving
Christmas brings with it the perfect opportunity to show how much we care. We all know that warm feeling that comes from discovering the perfect present for someone we love. So, when searching for festive gifts consider pieces that will bring joy and stand the test of time, and choose from our selection of curated sustainable gifts.
We've selected our stand-out favourites from this season – items that offer simple tactility and pure joy, bringing pleasure, comfort and a sense of being seen and celebrated. From stocking fillers, to patterned cushions in natural fabrics, cocktail glasses, striking candle holders and our course our 22-carat gold plated jewellery in beautiful organic shapes, are just a few of the suggestions we know will be loved by all who receive them.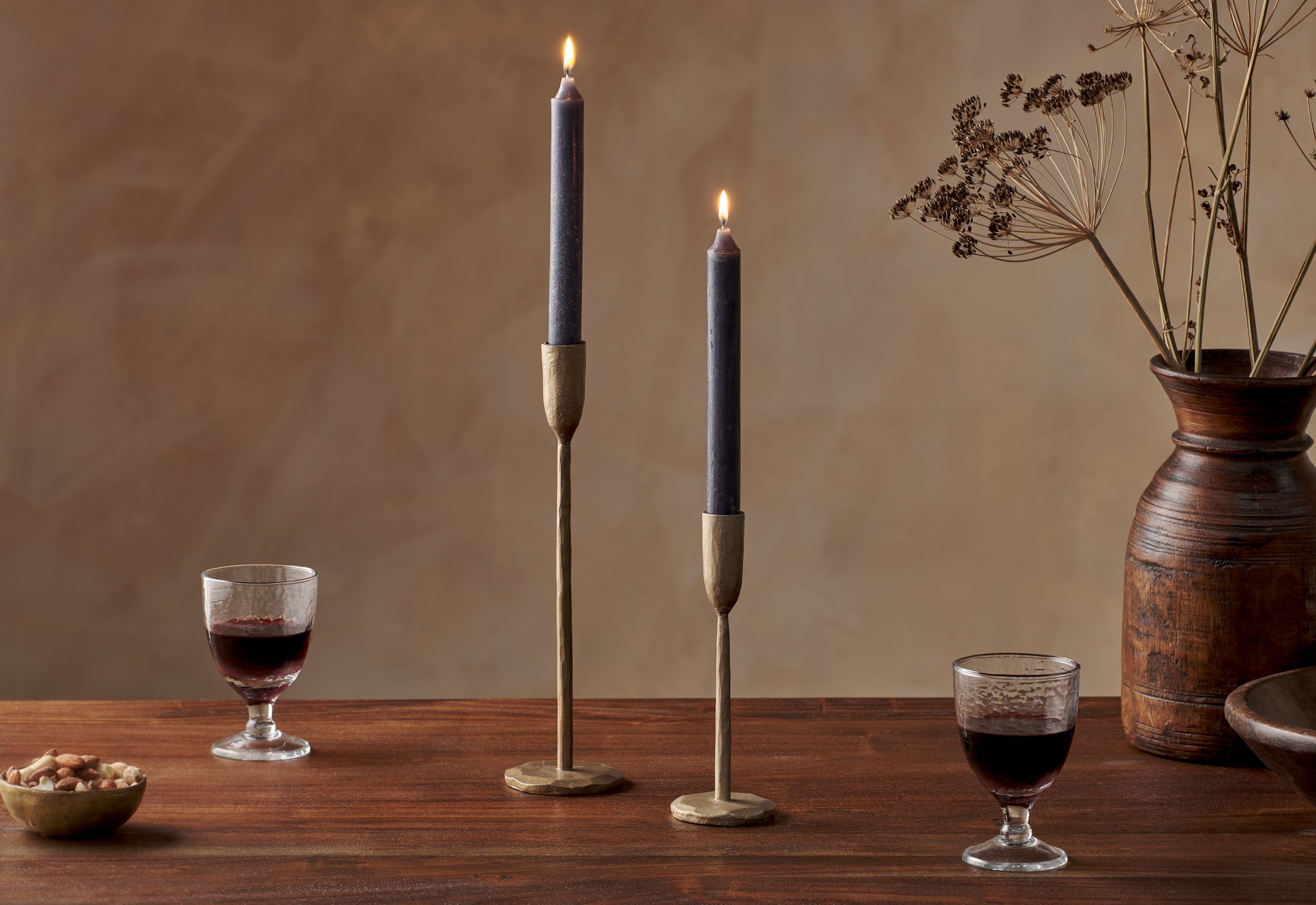 "Our collection of artisan pieces celebrates the beauty of hand made and are sure to stand the test of time."​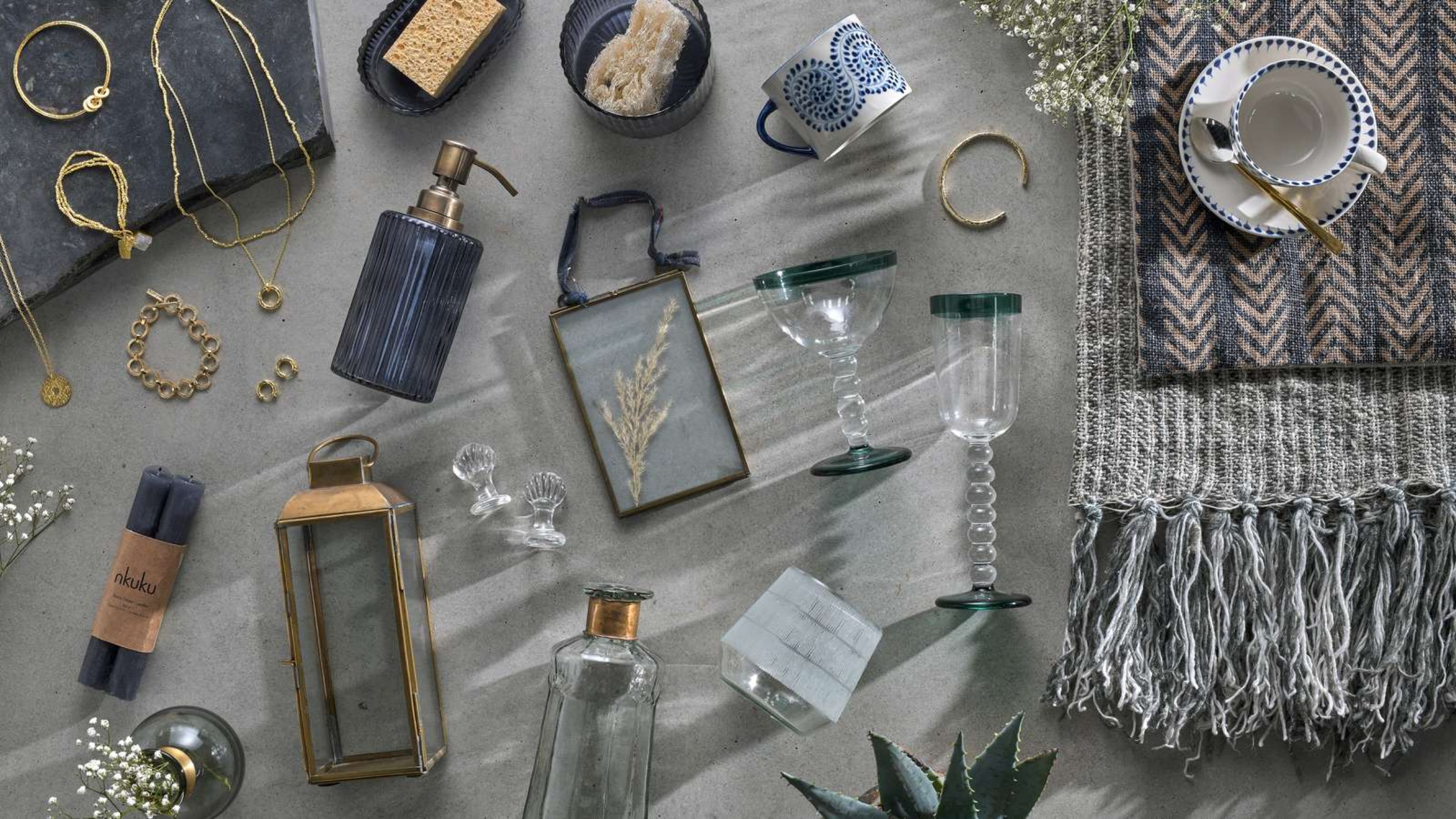 Gifts for Her
These elegant coupe style Champagne glasses are a delightful way to add a touch of festive colour to a table setting. Exuding the heyday of cocktail glamour, they are made from Borosilicate glass which is formed under high temperatures and hand finished for a naturally stylish appearance. Their beaded stem, coloured base and matching rim add a subtle sense of occasion to seasonal entertaining and festive gatherings. They are presented in their own gift box, so they're ready to go under the tree.
Our Mayla cushion covers are handwoven from a linen and a touch of cotton, in a laid back design and texture. The neutral tones are enhanced with a series of simple hand stitched black lines creating a subtle pattern that will suit most décor.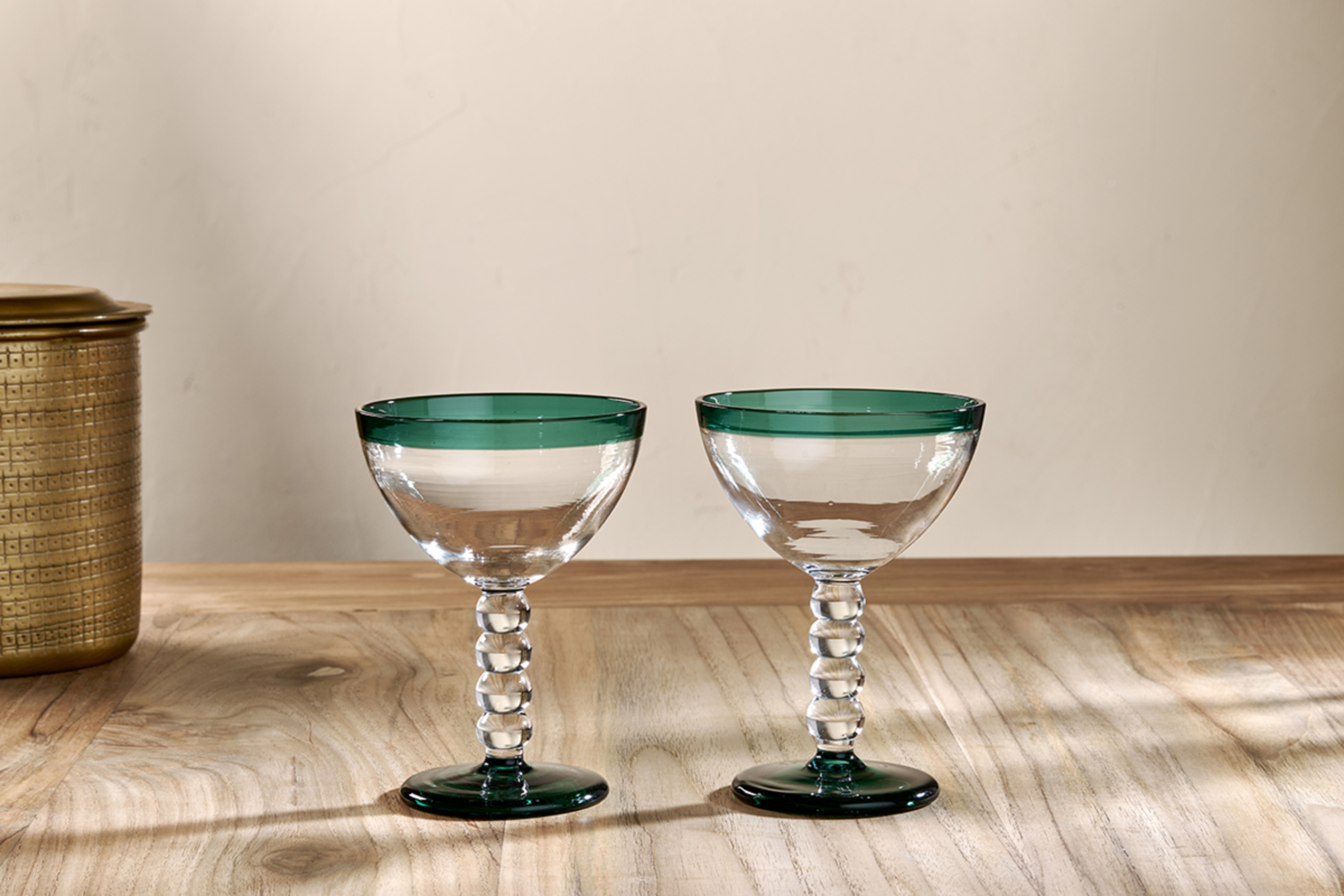 Our Kiko frames are one of our most iconic pieces. The glass front and back make them great for photographs, or other precious keepsakes like postcards, concert tickets and drawings. They look great grouped together in a range of sizes and orientations. Each one is strung with a recycled sari tie.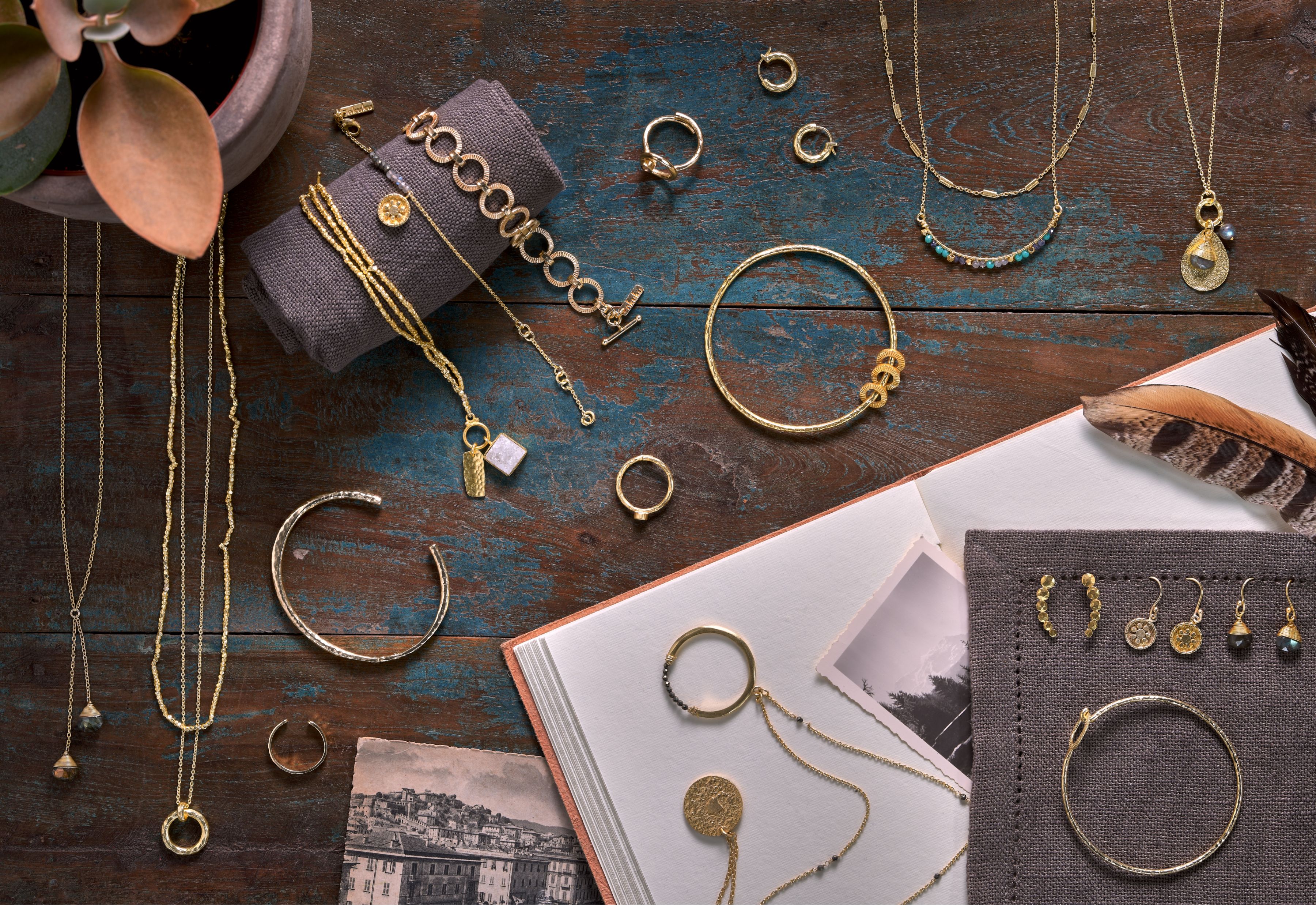 Jewellery Gifts
For a truly thoughtful gift, choosing from our artisan made, hand-crafted jewellery collection of 22 carat gold-plated necklaces, bracelets, rings and earrings, is a gorgeous option that shows true feeling. Select from plain textured styles or designs set with semi-precious stones. Each piece is beautifully organic in appearance and tactile to the touch, and, of course, carries with it a story that will grow with the wearer over time.
Our striking Nandi hoop earrings have an elegant yet rustic design. The chunky textured hoop wraps elegantly around, perfect for adding a little bit of extra style to the everyday. These earrings are hypoallergenic and nickel-free, and plated in 22 karat gold.
For those who like to make a statement, our Hara Onyx necklace combines hand-etched, interwoven warm gold links with a striking tear-shaped onyx stone that is considered a symbol of balancing, grounding and protection. The chunky chain of brass alloy plated in 22 carat gold has a cool contemporary appearance with bar closure that offsets the delicacy and inky darkness of the elegant stone held in place by a smaller link.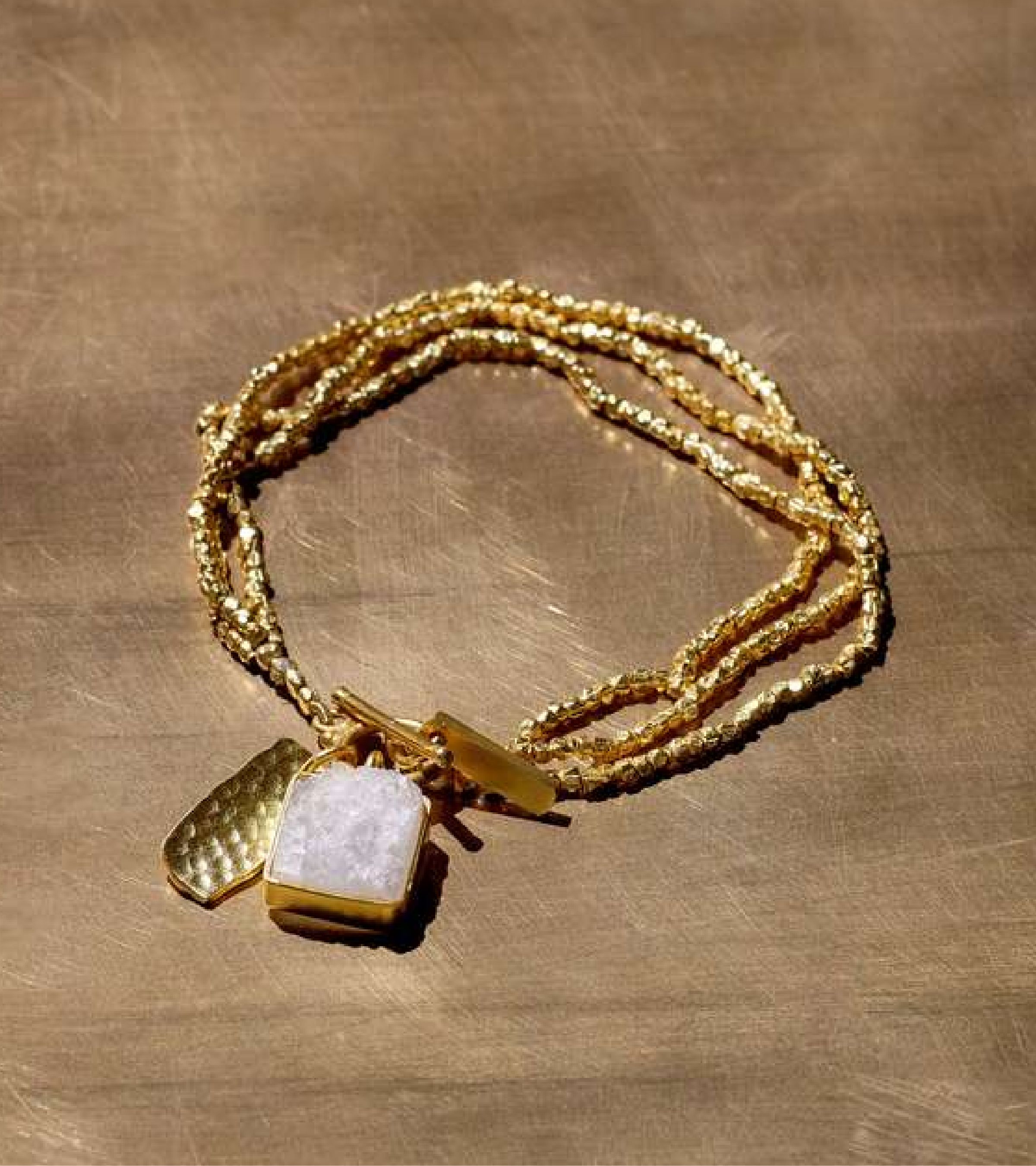 Few gifts feel as special to receive as a piece of jewellery, and our Asa bracelet is no exception. The chunky druzy quarts bracelet features an elegant pendant crafted from raw natural druzy stone encased in a gold plated surround. A druzy stone is a gemstone that, through a natural occurrence, has formed a natural layer of crystallisation. The effect is a raw, textured finish. Druzy stones are said to help with relaxation and healing. The bracelet itself is crafted from three chains made from hand-cut rustic gold beads, showcasing artisan craftwork at its best. This bracelet is hypoallergenic and nickel-free, and crafted from 22 karat gold plate.
Gifts for Him
This selection of gifts includes many failsafe options. Think generous drinking vessels, well-made gadgets and tasteful, striking furnishings in solid materials and rich, deep tones, perfect for all who are suave and savvy in your life.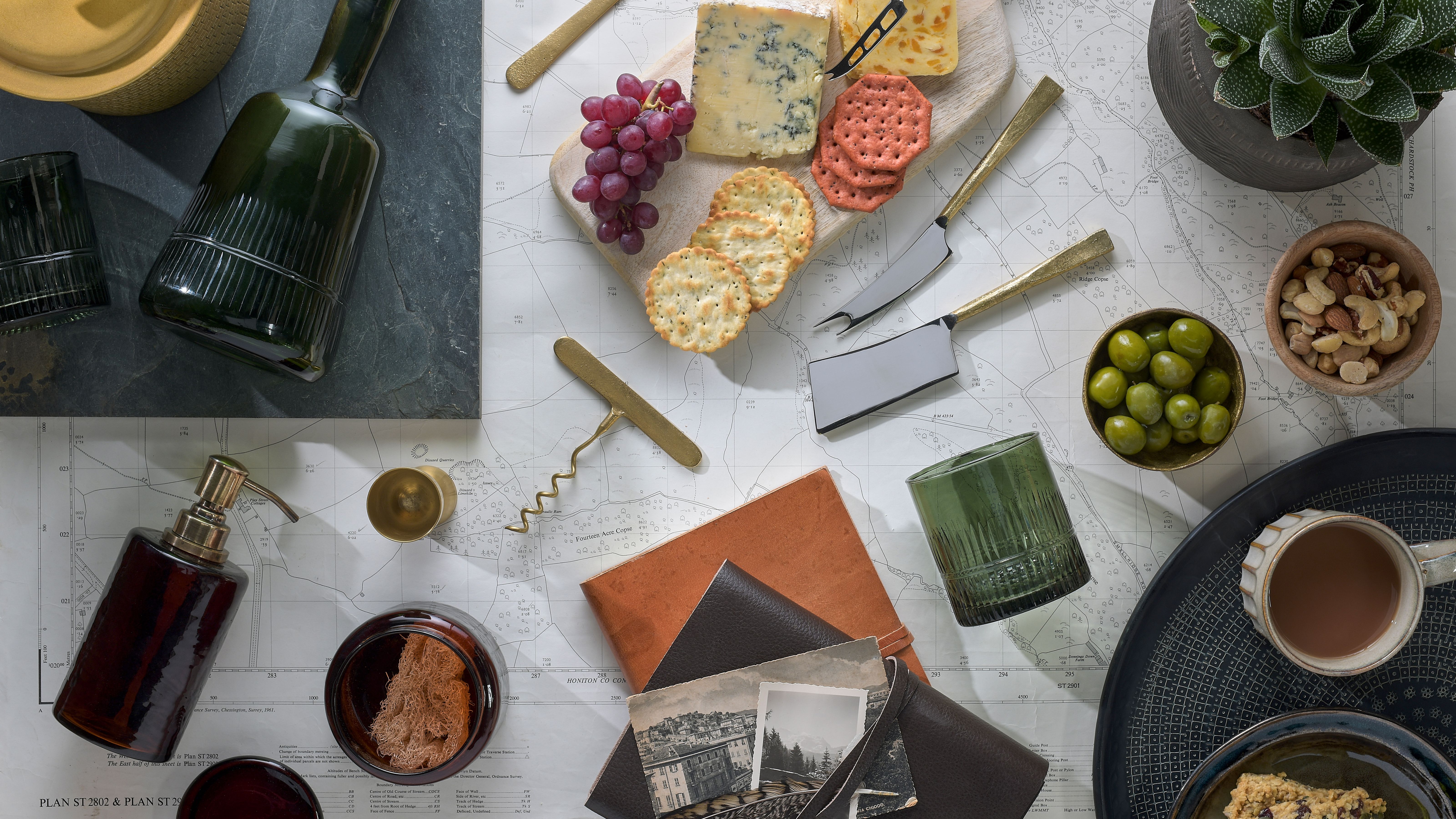 Our stylish rustic journals are beautifully handmade from untreated leather dyed with vegetable extract and tree bark. Using age old techniques, each piece is the handiwork of one artisan from start to finish. Working as part of a cooperative of families providing fair employment and equal opportunities. They make for a wonderful stocking filler.
The deep emerald tones of our elegant Mila decanter give it an air of elegnace. The etched detailing on the base of the decanter adds a stylish decorative detail. Each one is made from recycled glass in this sophisticated design.
This stylish set of brass Ena cheese knives has a tactile artisan look; each piece is made from durable stainless steel; the handles are forged using traditional techniques, and will come in useful on Christmas Day.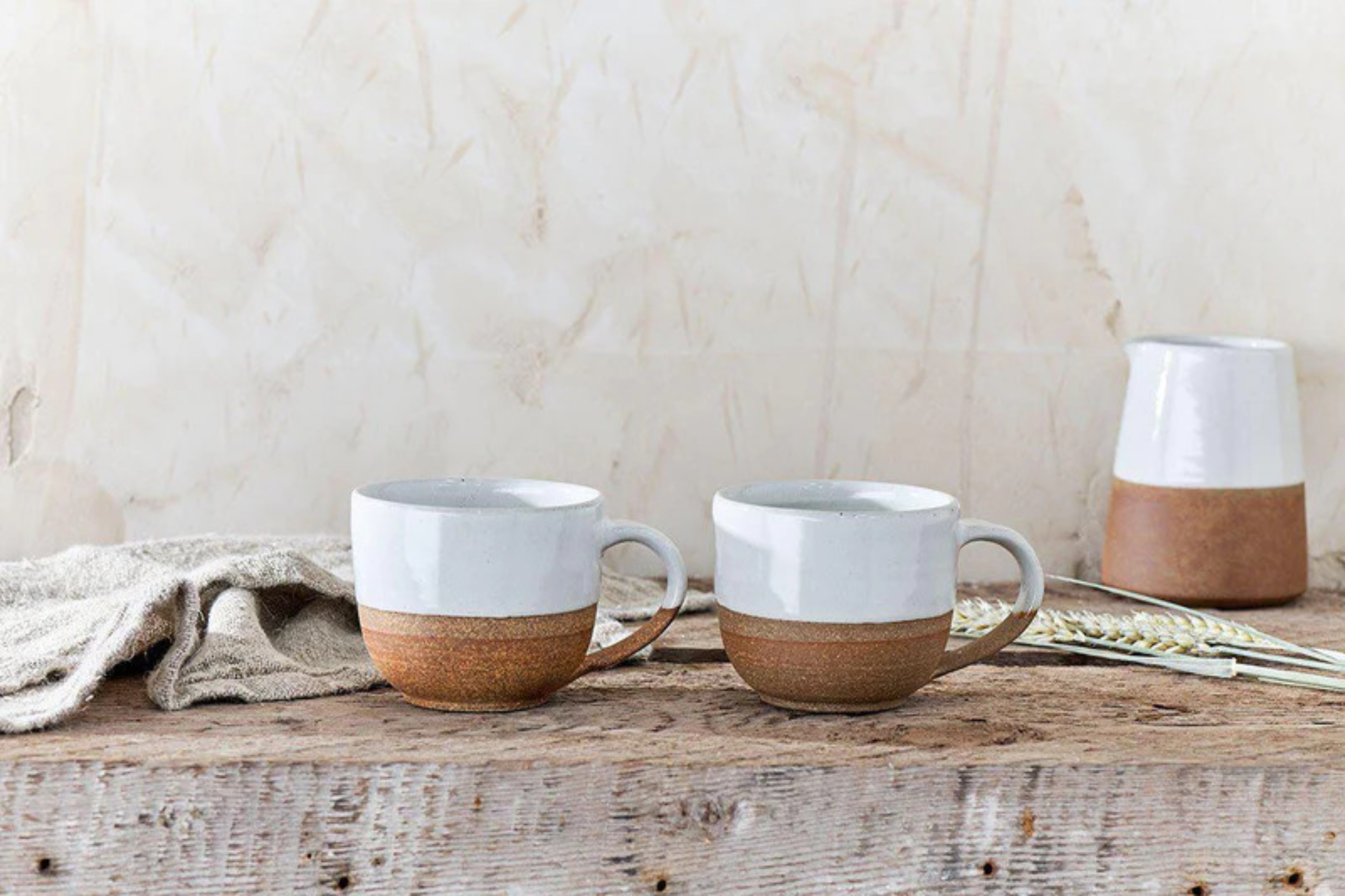 Gifts for the Home
When it comes to choosing a special gift to fit into someone's carefully curated living space, we have just the items that will fit seamlessly into any scheme while creating a standout present that they'll love and cherish (and remember you every time they look at it). Unusually textured or patterned soft furnishings in neutral hues, hand poured candles and tactile mugs are all wonderful gifts that have effortless and harmonious style.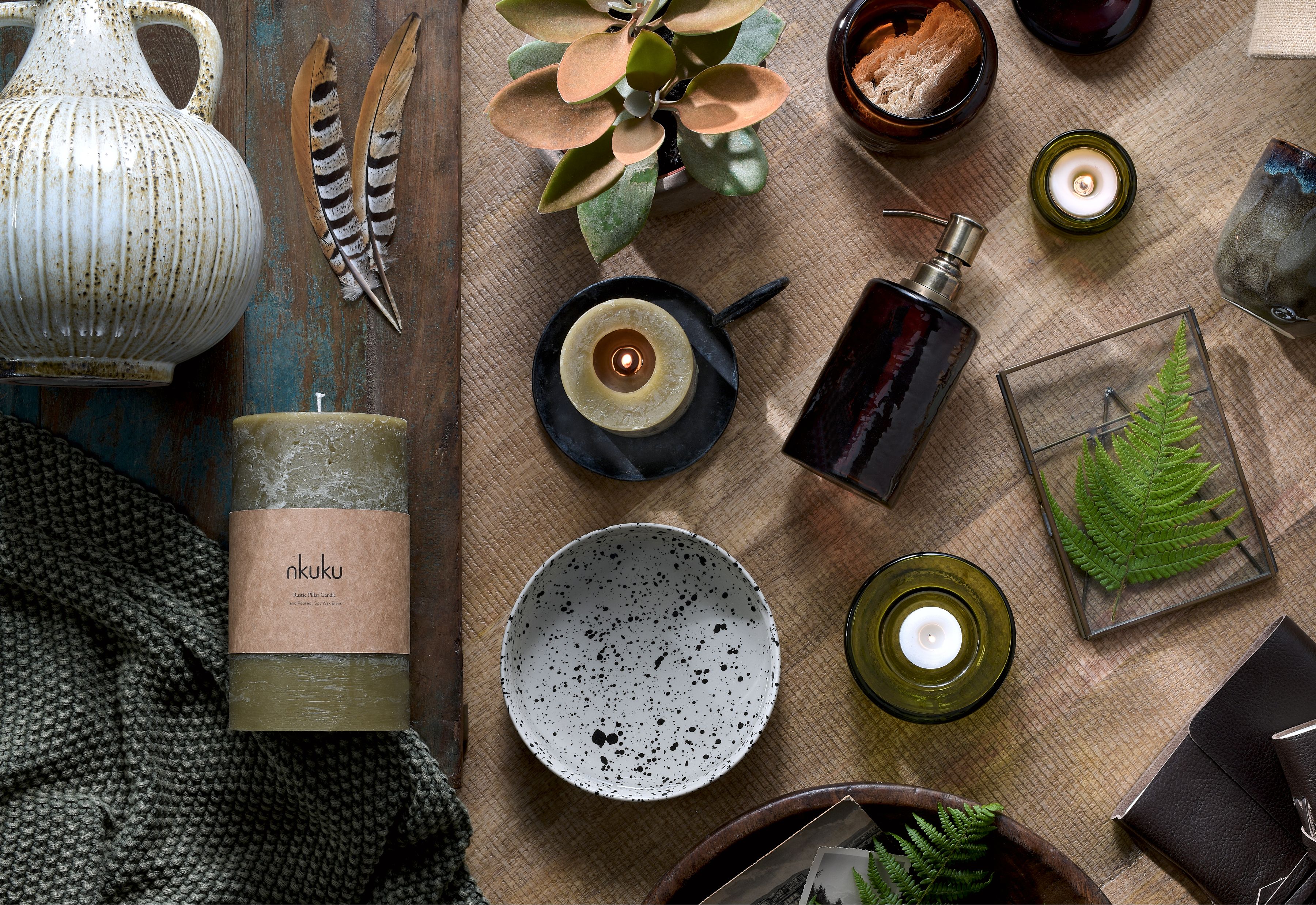 Expertly hand poured using a soy wax blend with a rustic finish, our new candle collection has been thoughtfully designed to fit within our lanterns and candle holders and add the perfect amount of festive cheer to a space. Available as pillar and dinner candles in a choice of three curated colours, they are sure to be well received on Christmas morning.
These tactile knitted throws are handmade in natural cotton by skilled artisans using a loose stitch known as a 'moss stitch'. The warming rust colour tone brings a cosy seasonal tone to an interior when layered over a favourite armchair, and they are available in several colours to suit every taste.
Our Mali pottery collection is handmade from terracotta and dipped in an off-white glaze. These tactile pieces are produced in a small kiln, made simply from bricks and lit by an open fire. Our Mali pottery is handmade in southern India as part of a fair-trade project. The project was established to provide training and secure employment for men and women both, from disadvantaged backgrounds. The scheme now employs 40 people and focuses particularly on empowering women in the workplace. The Mali coffee mugs make for a truly thoughtful gift.
Gifts for Cooks
For those who are most at home in their kitchen and adore nothing more than cooking up incredible feasts, there is no greater gift than an item that pays homage to their culinary prowess and showcases their love of food-based creativity. Jars for preserving and decanting, jugs and stands to serve up culinary delights, and platters, dishes and serveware celebrate every morsel, will all be gratefully received.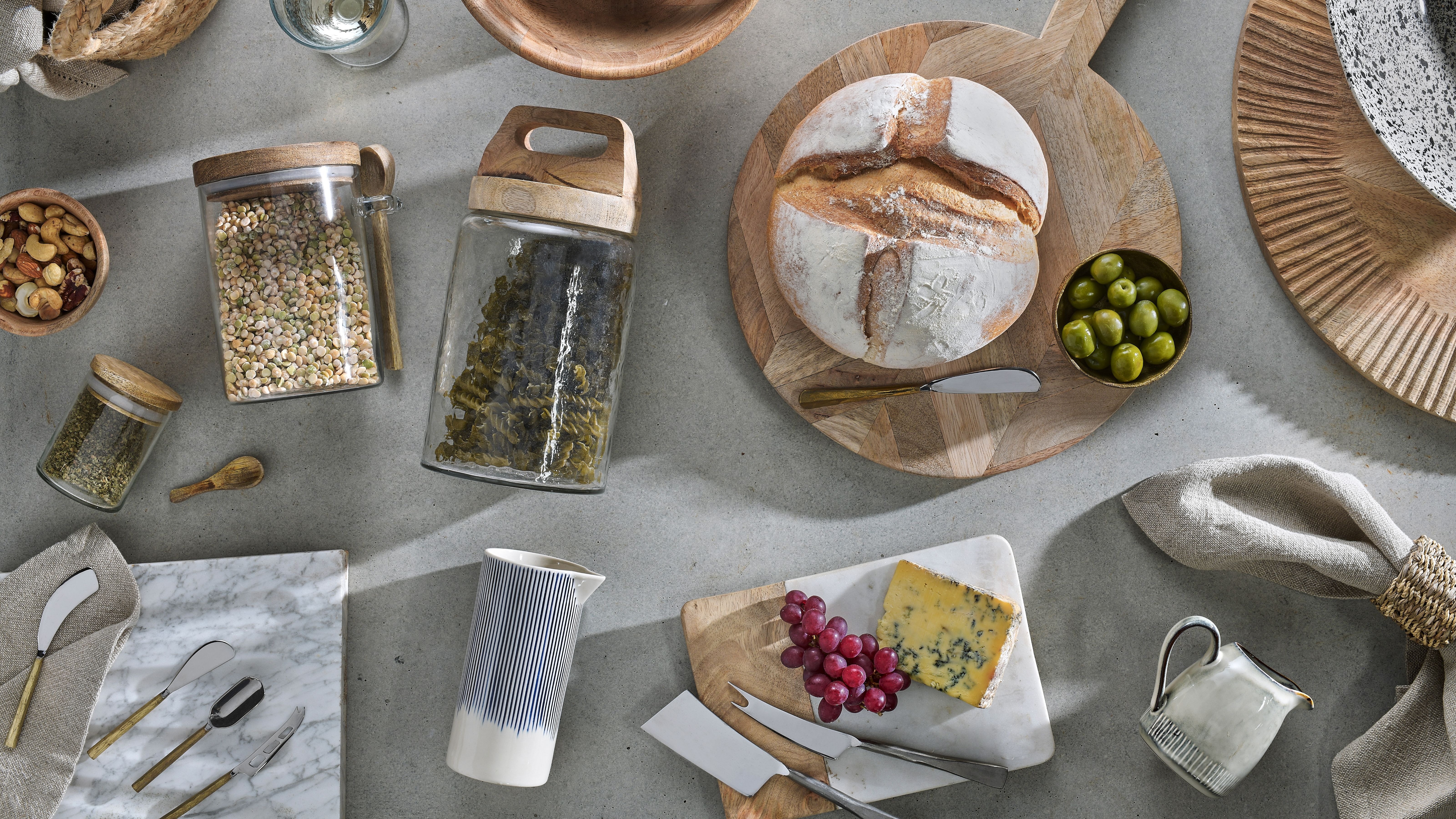 The raised profile of the Gavivi mango wood stand makes a statement serving platter, elevating a food offering. The beautiful tactile edge is hand carved bringing an appealing decorative detail. The natural mango wood has a warm varied tone. The solid stand and tactile platter have a rustic artisan quality. This is a great showpiece that the cooks in your life will surely appreciate.
Bwari Round Marble Serving Board
Our Bwari round marble serving boards are handmade using traditional tools in the shadows of the Taj Mahal. This elegant, durable material is ideal for use as a chopping board, cheese board or serving platter. The white marble combines with the natural mango wood in this contemporary yet timeless design..
Our Kitto Storage Jar, brings charm and interest to storage. The jar is handmade from recycled glass, the top is made from sustainable wood with an airtight sealer. As we all try to reduce our plastic use, these stylish yet practical pieces are perfect for keeping grains and pulses fresh, and will be a welcome addition to a pantry or tiered shelf.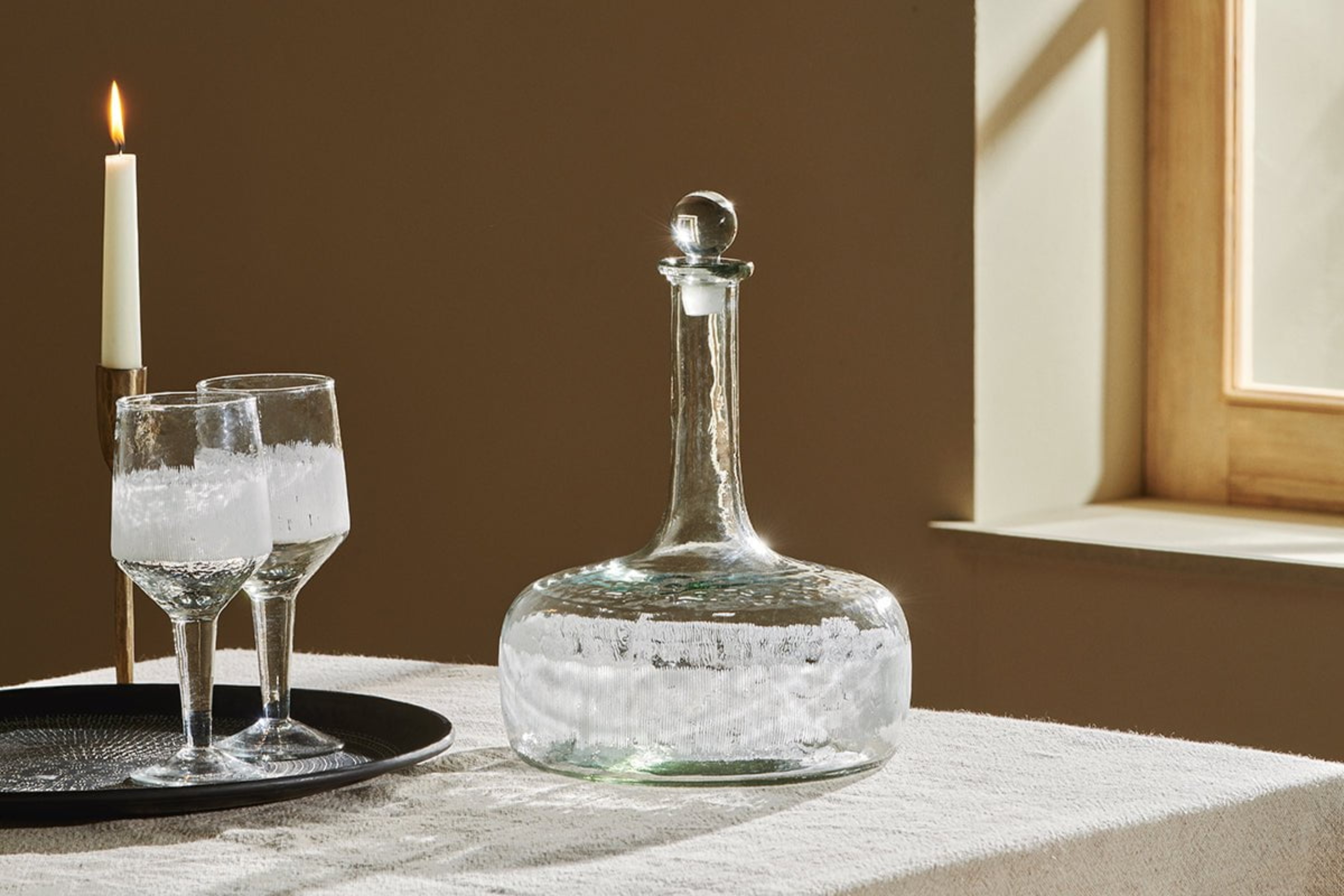 Gifts for Entertaining
We all know someone who hosts with aplomb and loves nothing more than sharing their home and table with others. Those people, who make everyone feel instantly at ease and create the ambiance for spectacular evenings, deserve a little recognition for their seemingly effortless flair for forging unforgettable nights (trust us, it is anything but effortless).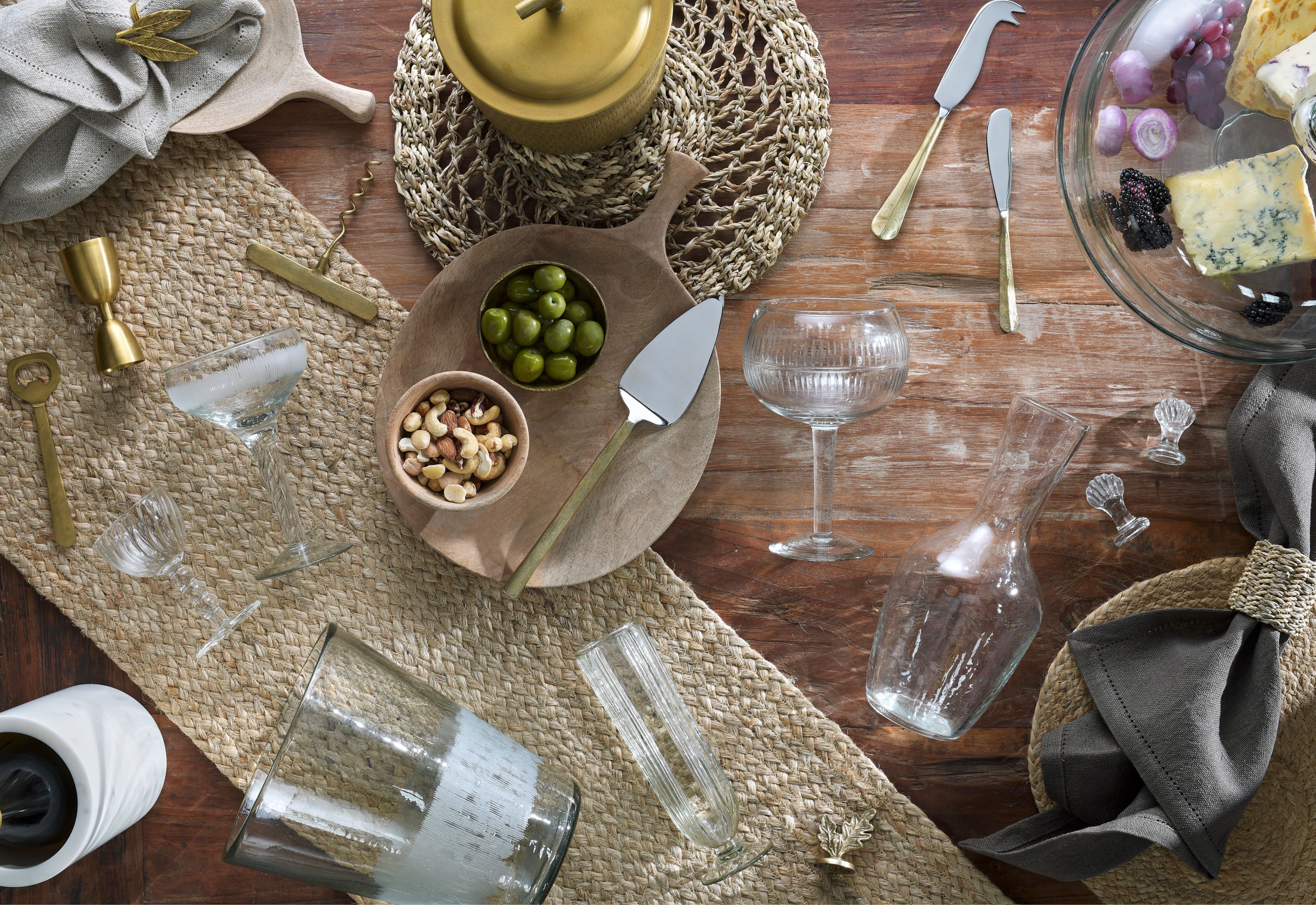 With its sweeping curves and elegant design, our Anara decanter is a timeless addition to any home. Crafted from hand blown glass, the traditional techniques used in its creation are evident thanks to its eye-catching organic shape. A subtle frosted pattern has been etched by hand, adding interesting decorative detail and an appealing tactile quality.
The Rahuri drinks set would make the perfect gift. The set includes a cork screw, bottle opener and drinks measure. Each one is made from stainless steel with a hand forged handle, and the warm brass finish adds a stylish touch to this practical set.
Cocktail hour has never looked so stylish. The Anara etched cocktail glasses marry the ideal cocktail glass shape with a striking etched frosting design. Perfect for any cocktail, they look particularly elegant with Margaritas with the crushed salt around the rim enhancing the frosting. These transulcent cocktail glasses are crafted from recycled glass and decorated by hand.