We love the new Leon cookery book, Happy Salads. Chefs, Jane Baxter and John Vincent bring together 100 quick, healthy and delicious recipes from delectable southern Indian pulse salad to yummy black riced peas. The book includes some great tips and often hilarious commentary, which means not only that you rustle up something scrumptious but you chuckle your way through the process.

Leon was founded on two principles; that food could taste good and do you good and this latest book is a perfect example of how this can be achieved. As a founding member of the Sustainable Restaurant Association, Leon is also conscious of being sustainable in the way they source their ingredients and their impact on the environment.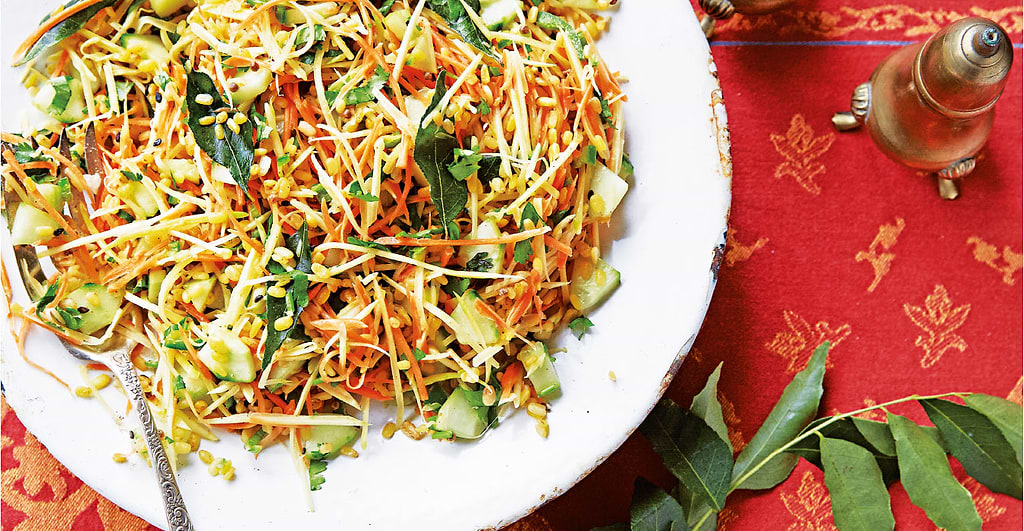 KOSAMBARI

SERVES 4
PREP TIME: 15 MINS (plus soaking) COOK TIME: 5 MINS
WF GF DF V Ve

This southern Indian pulse salad is used at celebratory meals. It's so comforting it may as well be a hug from grandma.

Drain the moong dhal well in a sieve and prepare the vegetables and mango.

Heat the coconut oil in a large pan and add the mustard seeds, asafoetida, curry leaves and cumin.
Cook, stirring continuously until the mustard seeds start to pop.
Add the drained dhal and stir-fry for 3 minutes.
Tip into a large bowl and leave to cool.

Add the grated and chopped veg to the bowl. Stir in the rest of the ingredients and season.

4 tablespoons moong dhal, soaked in lots of water overnight
3 carrots, grated
1 cucumber, peeled, deseeded and chopped
1 green mango, grated
1 tablespoon coconut oil
2 teaspoons mustard seeds
A pinch of asafoetida
10 curry leaves
1 teaspoon ground cumin juice of ½ a lemon
2 green chillies, chopped
Fresh coriander leaves
Salt and freshly ground black pepper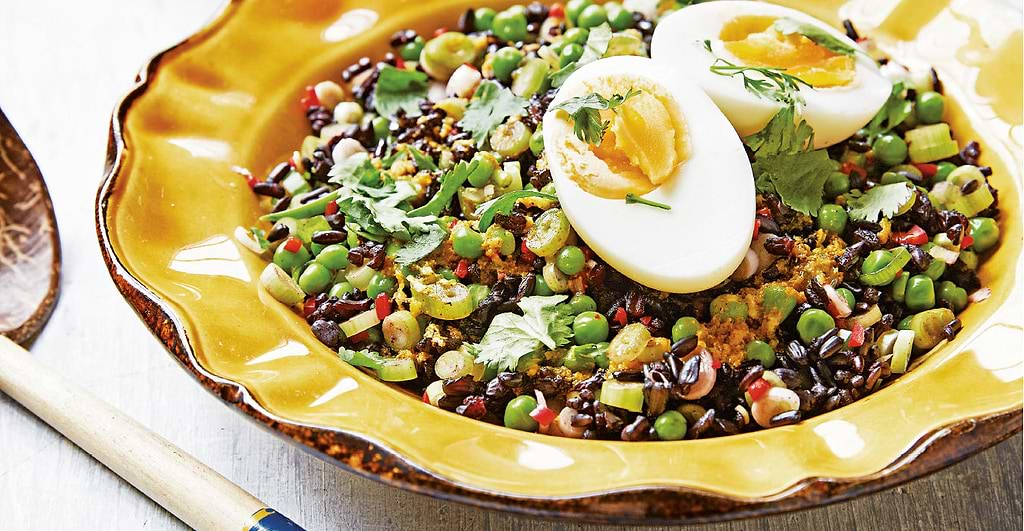 BLACK RICED PEAS

SERVES 1
PREP TIME: 10 MINS COOK TIME: 5 MINS
WF GF DF V

When testing recipes, Jane got so distracted eating this salad that she completely forgot to write down how to make it. Luckily she made and ate it a few more times, so it's here now.

Mix the rice in a large bowl with the peas, spring onions and chilli.
Whisk together the vinaigrette ingredients and season with salt and pepper.
Toss the dressing with the rice and top with the halved boiled eggs, coriander and pea shoots if using.

150g (5½oz) cooked black rice
100g (3½oz) cooked peas
1 bunch of spring onions, chopped
1 red chilli, finely chopped
1 or 2 boiled eggs, depending on how hungry you are
1 tablespoon chopped fresh coriander
A handful of pea shoots (optional)

CURRY VINAIGRETTE

1 teaspoon curry powder
1 tablespoon rice vinegar
2 tablespoons rapeseed oil
1 teaspoon finely grated ginger
Salt and freshly ground black pepper

TIP: Cooked flaked smoked haddock would make a great addition.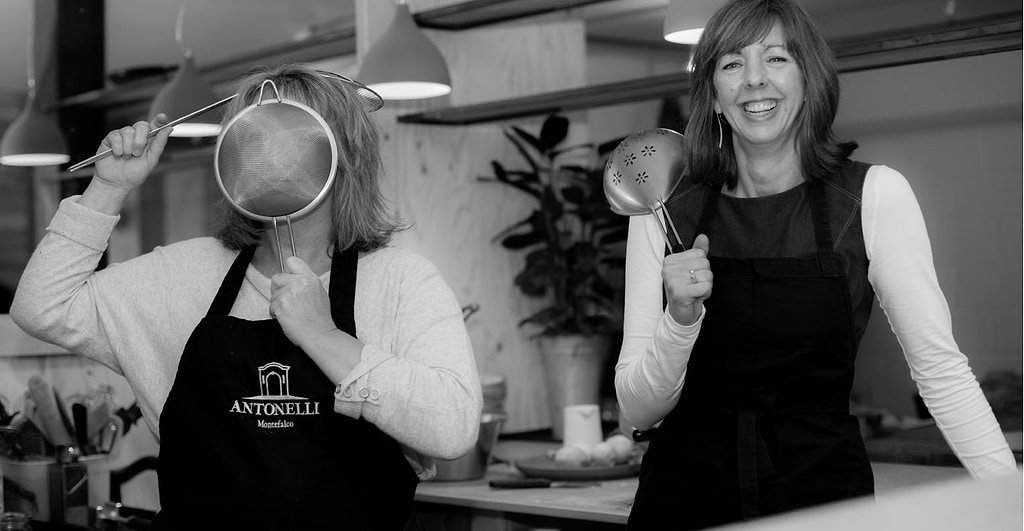 When Jane Baxter is not conjuring up delicious recipes for Leon, she is busy working on her new venture shared with business partner, Samantha Miller.
Wild Artichokes is a fantastic food and events company that hosts pop up dining events in the West Country, and offers food and service for weddings and special occasions.
The food has a Southern Italian influence and showcases all Jane and Sam's knowledge and experience in creating great food.
For forthcoming dining events and online bookings, go to www.wildartichokes.co.uk

LEON Happy Salads by Jane Baxter & John Vincent
Published by Conran Octopus Ltd 2016
www.octopusbooks.co.uk
Photography by Tamin Jones