Our collection of exquisitely handcrafted British-made sofas are all designed, built, and upholstered by our specialist team in our Nottinghamshire workshop.
Their boutique style and honest approach to crafting fine pieces using enduring materials without compromising on lasting comfort makes them stand out from other makers.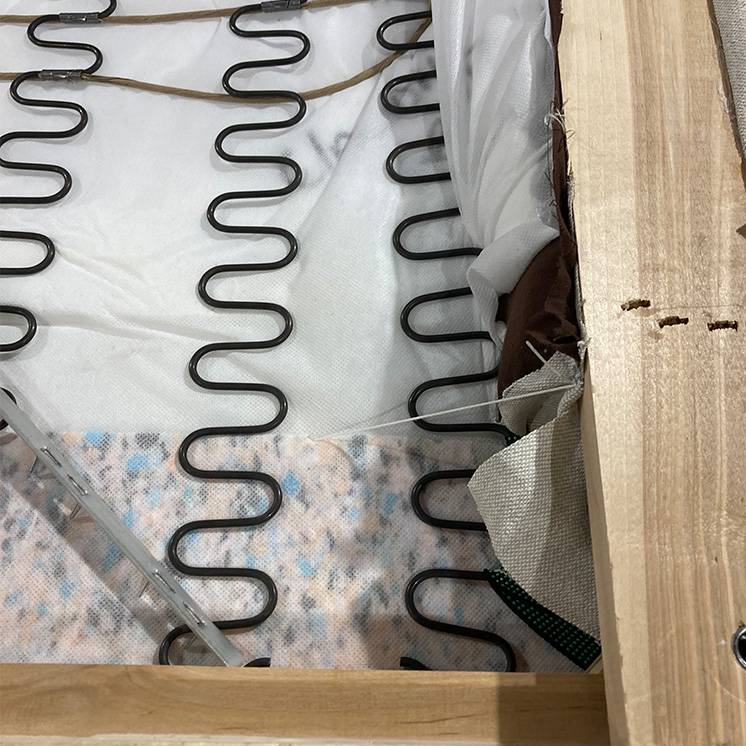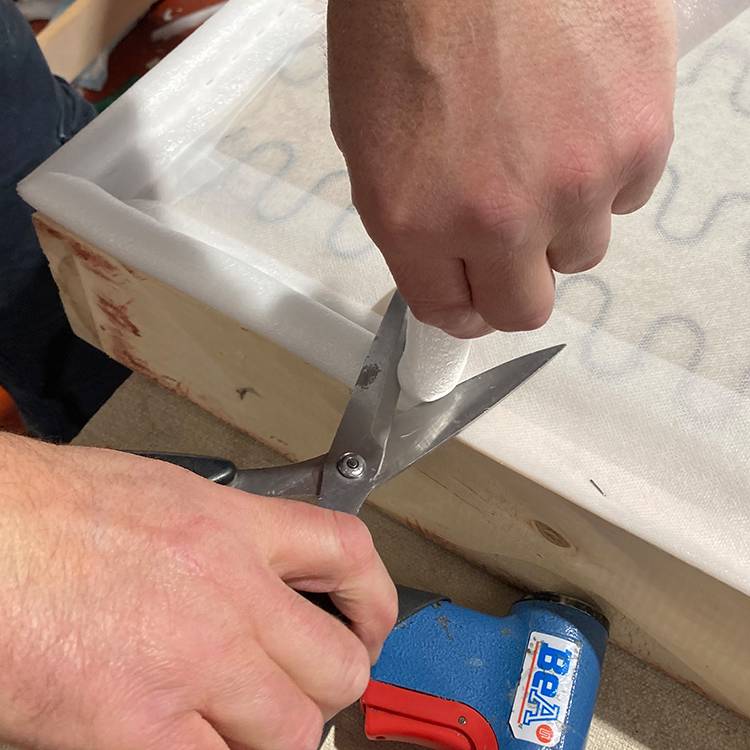 All internal mechanisms are carefully constructed, using only the highest-grade steel serpentine springs. Springs provide more comfort and flexibility for long-lasting wear but require careful coverage to maintain shape, contour and comfort. Experience and innovation have developed a filling method for increased recovery and longevity. Seats are filled with foam and fibre wraps, or fibre cushions with foam cores. This combination of technology and time-tested methods maximises comfort as well as form.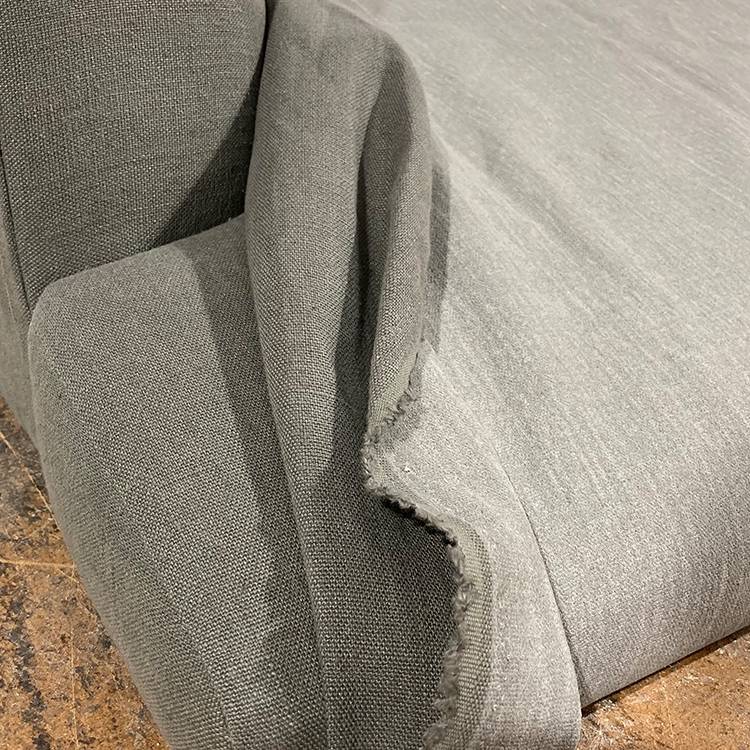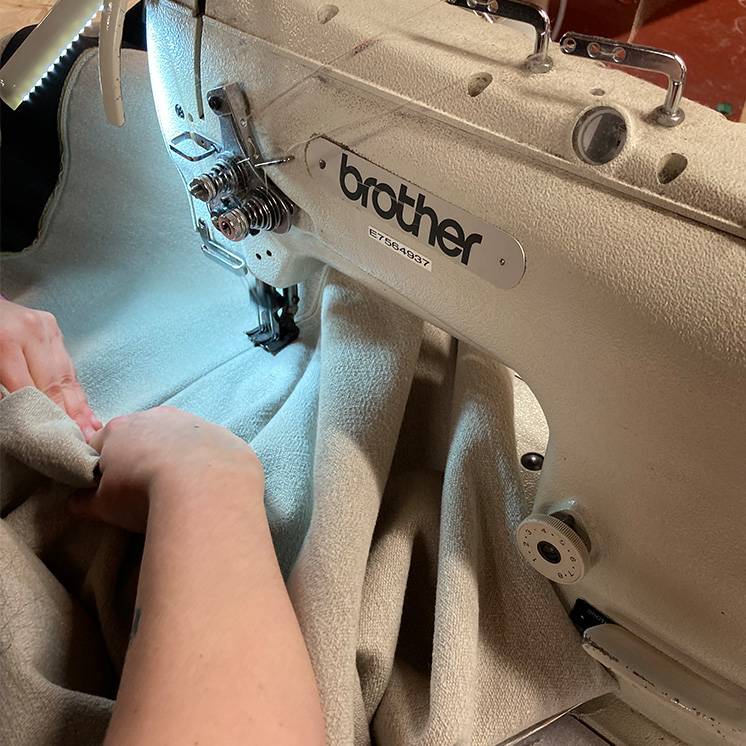 Their highly tuned methods for iteratively developing improvements are consistent throughout each build. From ensuring that the sculpted hardwood feet are stained to complement the fabric, to thread matching for a seamless finish from top to toe. For those with an eye for the minutiae, every detail has been considered.
From our first collaboration to create the Deni collection to our third and most recent, the Guddu, we've seen how blending quality craftsmanship and time-invested methods with innovation, engineering, and technology never fails to perfect the sweet unravelling feeling of indulgence and sumptuous comfort.
"We spend a lot of time searching for new and innovative fabrics and invariably rely on the long-standing relationships we enjoy with the leading mills of Italy for sourcing."
Highly skilled specialists build each piece to order, and their artisan processes are met with intelligent technology, care and attention to detail - most of which you won't see with the naked eye. The engineered details that go into the 'prebuilding' are often unseen, but these elements separate handcrafted sofas from those built en masse.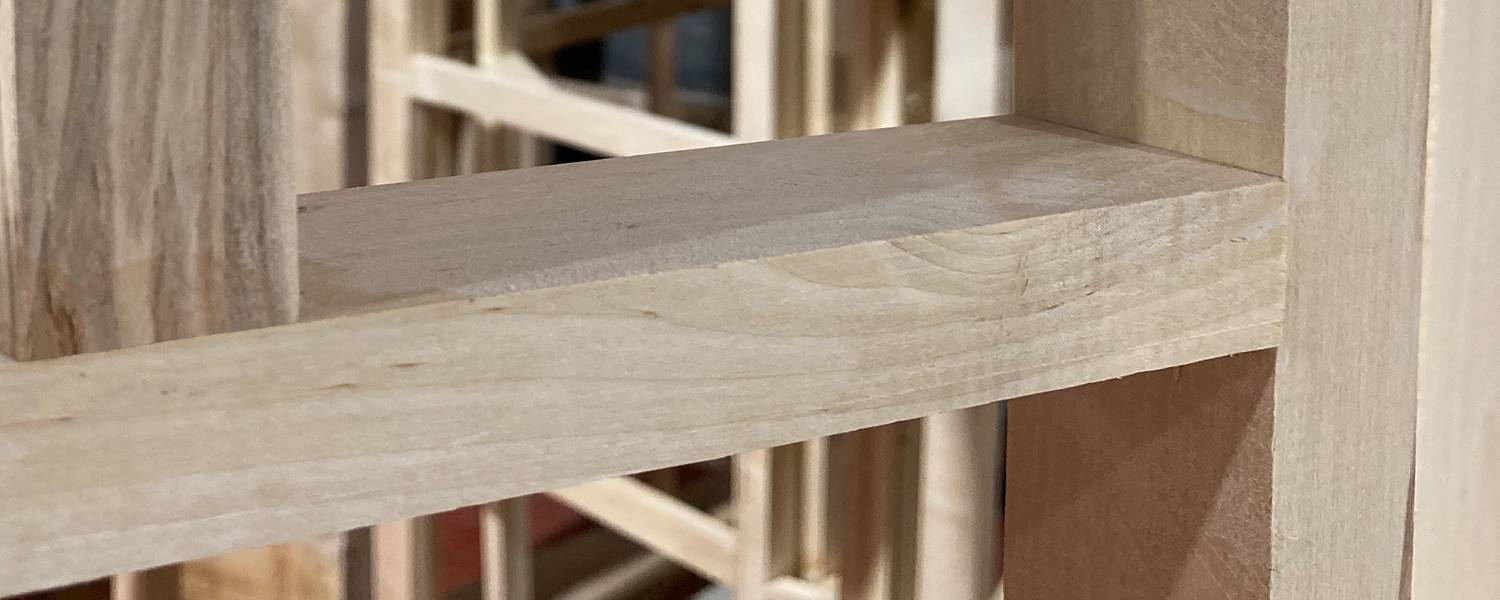 Carefully hidden with extra padding and soft layers that have been expertly shaped for comfort, and to soften the eye, lie highly engineered prebuilding processes and hidden materials that have evolved over the years. For unrivalled quality and endurance they only make only makes furniture with solid hardwood frames. All joints are screwed, glued, and dowelled. This improves the strength of the structure, ensuring that large blows won't cause failure, and increases stability, as choosing a hardwood build requires the investment and care of artisan joinery practices. Together, quality materials and highly crafted methods reduce the amount of movement at the joint, which is often where sofas fail.
Our Makers have developed a science for ensuring the exact ratio of layered foam to create lasting support throughout each structure, especially in the arms. Constructed layers of dense and soft foam ensure each sofa has that perfect balance of support. Over 30 years of experience have led them to Italy's finest mills to source sustainable yet luxury materials. Individual sofas are upholstered bespoke, with the fabric cut to size, paying attention to each selected material's specific behaviour. Only the highest-grade linens and fabrics for hand upholstery are chosen. All of which are tested for their pliability to safety standards in the UK.