Shanaya Mottled Glass Chandelier - Antique Bronze
Free Standard Delivery - 3 - 5 working days
On Orders over £100
Next Business Day Delivery
On orders placed before 3pm on Monday - Thursday - £7.95
Product description
Our Shanaya chandelier is a real showstopper. Its three-tiered statement design made from antique bronzed metal with panels of mercury-finished glass not only looks beautiful unlit, but will diffuse a warm glow in your chosen location. Perfect as an arresting hallway chandelier or as a centrepiece in a living room or dining room. Each tier sits beautifully within the other for a cascading effect of shimmering aged glass that we've hung from a simple link chain with an understated dark flex to match.
Product details
Dimensions (h x w x d)

201.5 x 50 x 50cm

Suitable for outdoor use

No
Care instructions
To care for this light, use a soft, dry microfiber cloth to gently wipe the glass in a circular motion on a regular basis. Please ensure the light is turned off when cleaning. Please do not use harsh chemicals or abrasive cleaners.
Delivery & return options
UK
- Free Standard Delivery on orders over £100 (Excluding Delivery)
- Standard Delivery - 3 - 5 working days (Under £100) - £4.95
- Orders under £15 (Excluding Delivery) Standard Delivery - £7.55
- Next Business Day Delivery on orders placed before 3pm on Monday - Thursday - £7.95
We work with couriers Yodel and DPD for standard delivery items.
Pre-Christmas Delivery order dates: Standard Delivery - order by midnight on the 18th of December. Next Business Day Delivery - order by 3pm on the 20th of December.
Visit our delivery page for more details
Returns
To return any unwanted items, click here for our recommended services.
Extended Returns: Purchases made between 16th November and 24th December, can be returned to us by Monday 22nd January 2024.
All purchases made from 25th December will have our standard 28 day returns applied.
For further information, please visit our help centre.
International Deliveries
We are not currently offering delivery outside of the UK. We will be carefully reviewing this and look forward to being able to offer international delivery options again in the future.
Ethical. Eco-Friendly. Handmade.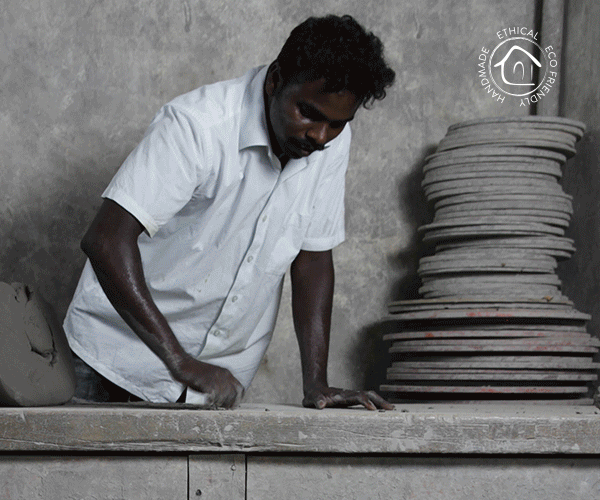 Local metal workers skilfully solder around the glass using traditional techniques. This handmade process means that there are weld marks on the joins of each piece, an honest feature that we love as it tells the story of how the product is made.
Discover more
Shanaya Mottled Glass Chandelier - Antique Bronze