We might be meeting in smaller numbers this year but that doesn't mean we can't enjoy creating a beautiful tablespace and festive setting, and small certainly doesn't mean we can't think big.
Our co-founder, Alex, talks us through her tips for creating an inspirational festive table this season, "One of my favourite things about Christmas is decorating the table. We have a big family and its always one of my happiest moments when we are all gathered around the table."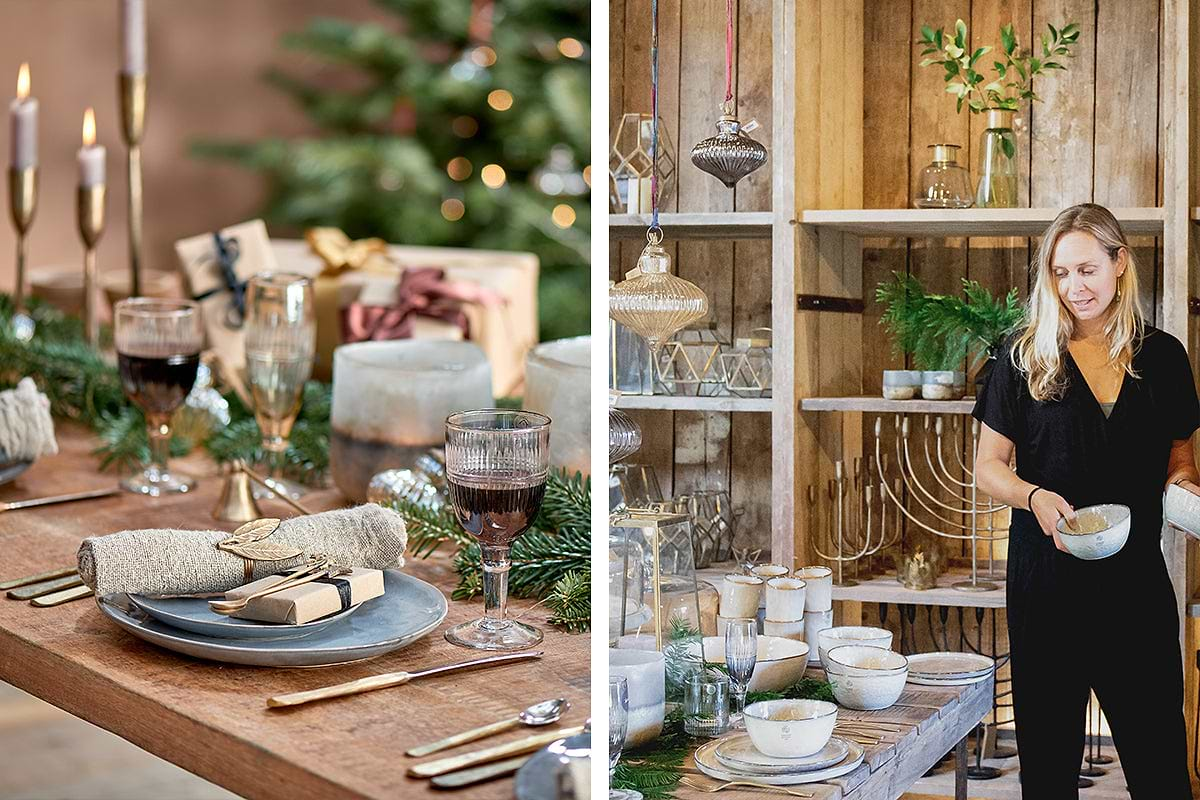 1. Tables & Seating
Firstly, check you've got the space to seat everyone. Now is a good excuse to invest in that dining table you've been lusting after. Add some stylish seating; comfort is an important part of entertaining, so think wisely about design.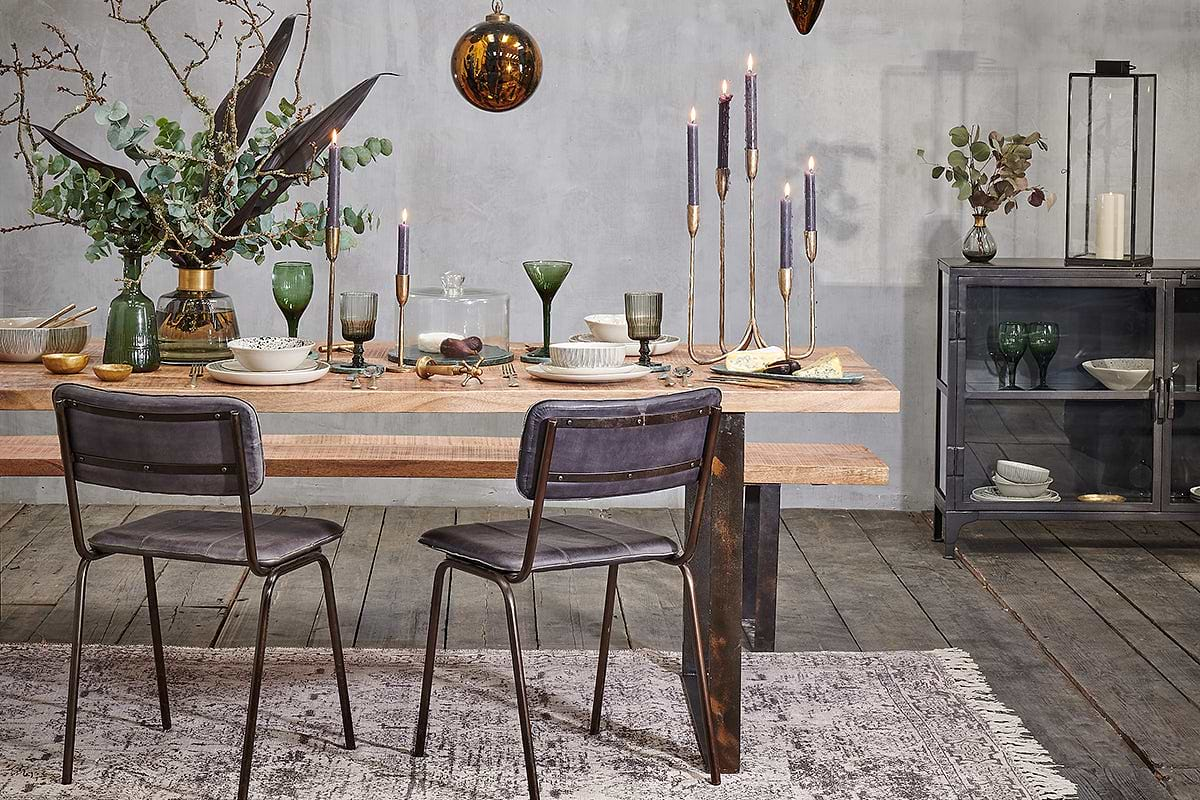 2. Christmas Table
It's amazing how quickly a table can transform from the everyday to something spectacular. Start with a great dinner service. Select an interesting tone, or unique pattern to bring a pop of colour to the table. Our Sankura tableware blend natural contours with a storm-grey colour palette in this tactile collection that contrasts beautifully with shimmering surfaces of antique gold and recycled glass. Try mixing textures with our Karuma and Ama collection, each with different finishes for a tactile display.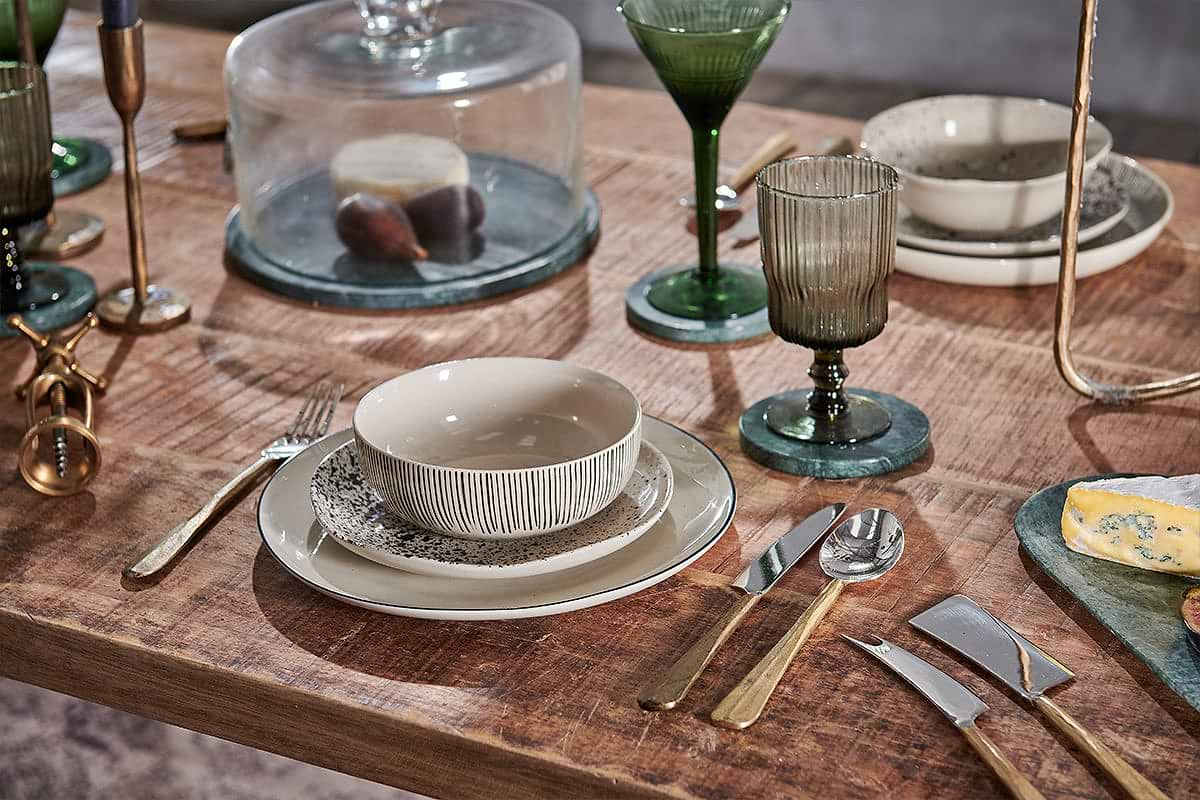 3. The Accessories
It's the small details that really give a table its star qualities. Mix elegant brass candlesticks with charming brass napkin rings; we love our woodland collection of beautiful leaves. Don't forget the cutlery; our hand forged brass pieces fit beautifully with the warm tones of our Mbata candlesticks. For a real show stopper display our Mbata cluster candelabra.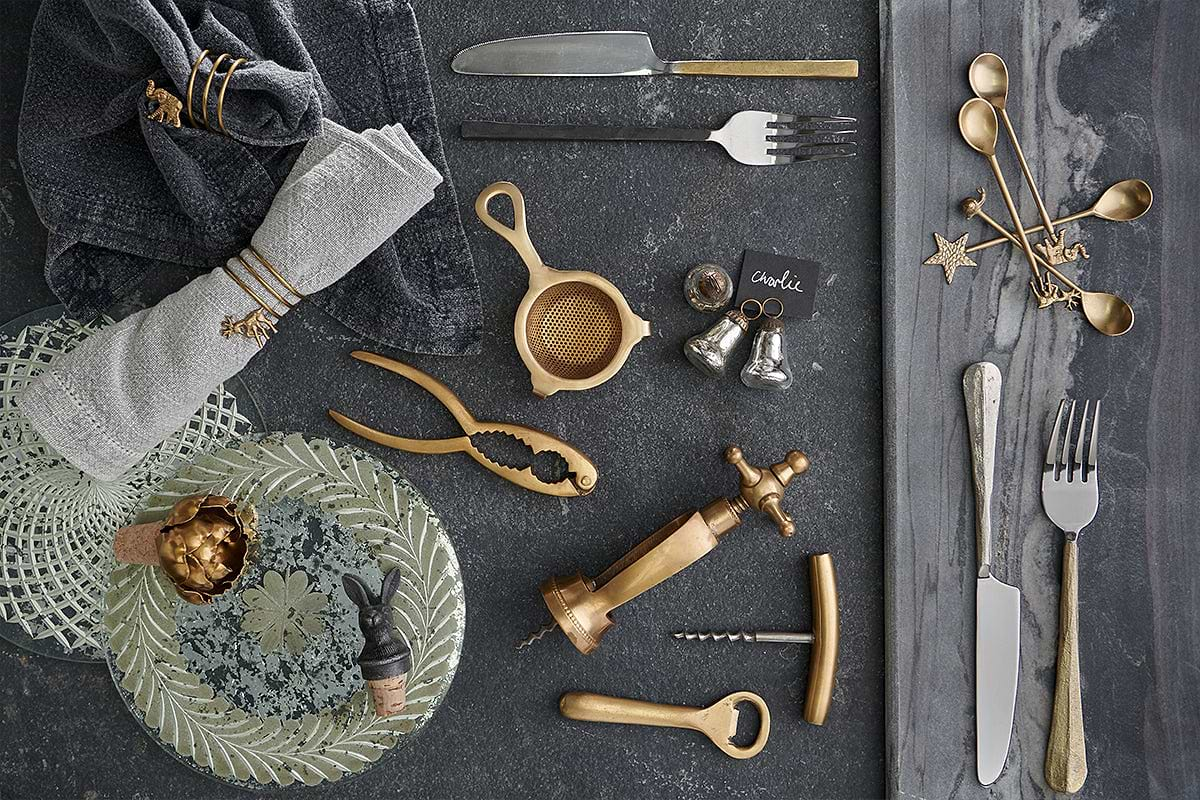 4. The Glassware
Glassware is key to table dressing, allowing you to play with colour and design. Explore sophisticated golds found in our Abeeko collection, or rich emerald greens in our Mila collection, and add some timeless elegance to the scene. Use decanters for the wine as a more formal touch, and to add to the sense of occasion.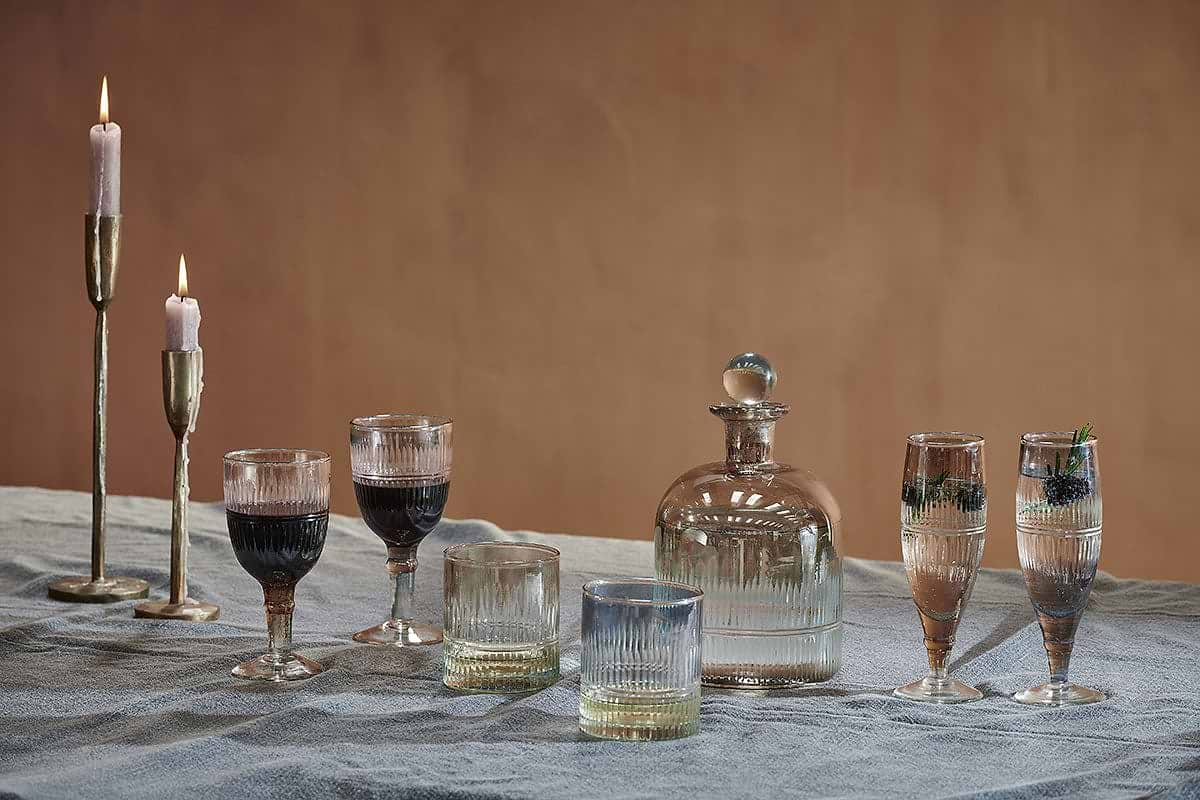 5. The Serveware
It's the season for indulging, so display culinary delights on beautifully crafted serveware from elegant marble platters to pared-back natural wood boards.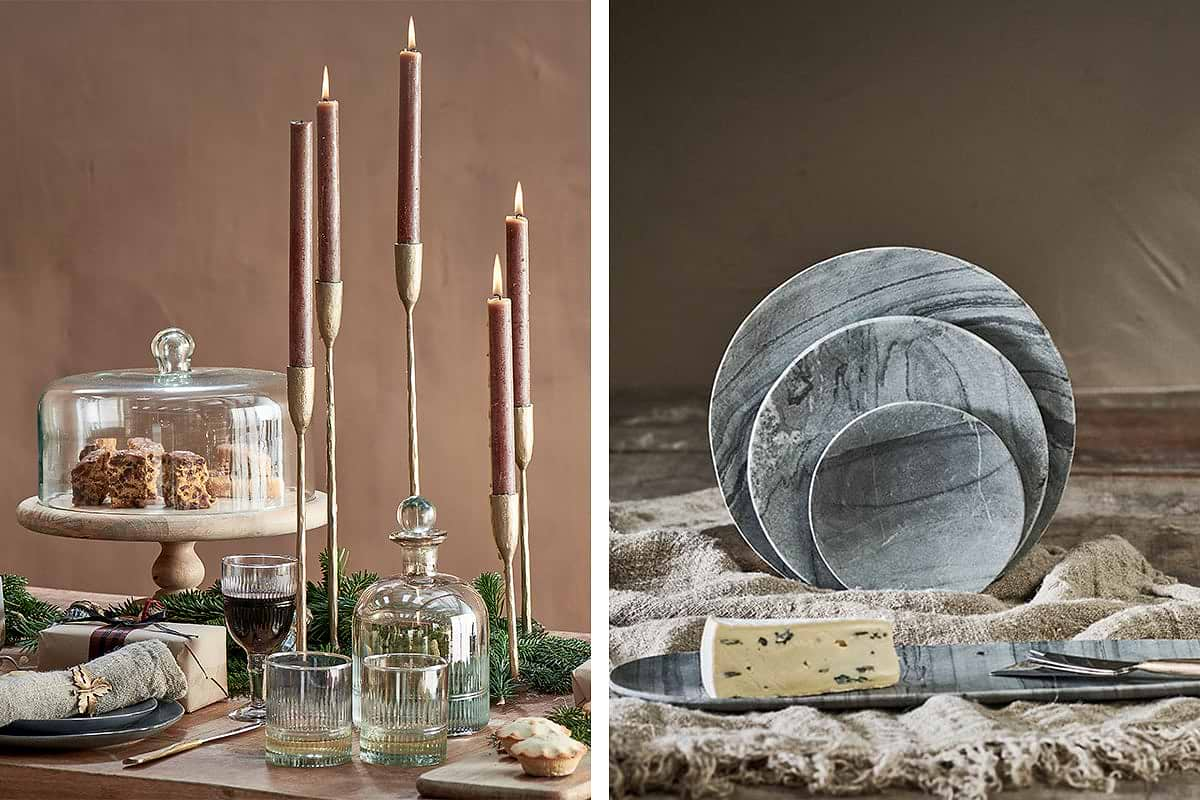 6. Table Gifting
Go the extra mile by adding a small gift to each setting using recyclable brown paper or reuse a pretty fabric as an alternative to gift wrap. Our Kiko glass boxes are perfect for the occasion. Simply fill them with a delicious chocolate or piece of striped candy for a festive feel.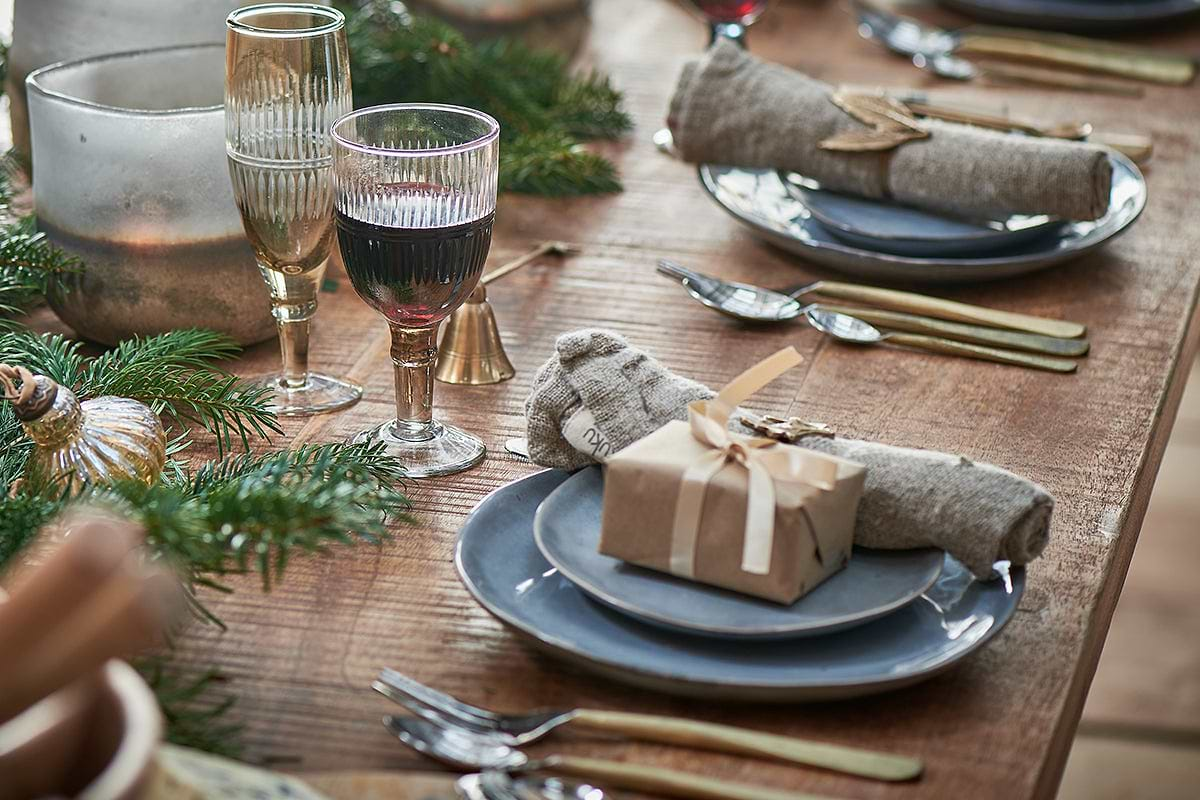 7. Show-Stopping Decoration
For the finale add some striking decorations, like our giant Danoa or Eliza baubles. Dress the table with foliage and create an over the table display with a branch strewn with beautiful baubles.