There's no better feeling than finding the perfect Christmas gift for someone. The excited anticipation of wrapping it up and tucking it under the tree, knowing that it is going to bring that person so much joy. The perfect gift is thoughtful and truly shows you care. 
Gifts with a homemade element are particularly special. Discover how Siobhan Doherty (@home__stead) and her family give their Christmas gifts a personal touch. Siobhan is a Colour Consultant and Content Creator based in Edinburgh.  
"I've always taken so much pleasure in gifting. I try to make it personable by adding a little handwritten note. I think that the way you wrap and present a gift makes all the difference. Every little considered detail makes it feel more special."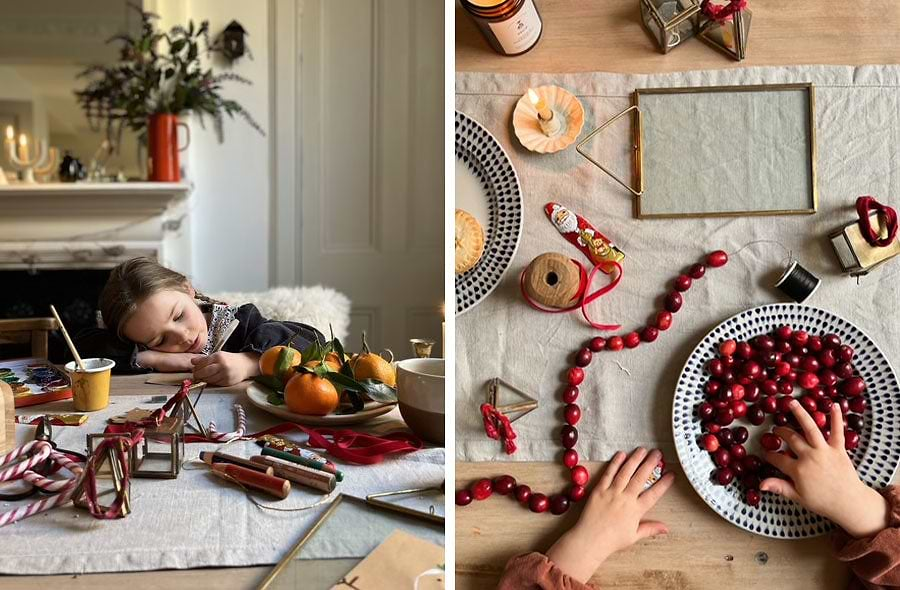 Why We Practice This Tradition 
Giving gifts is a tradition that's practised all over the world. It's one of the oldest rituals we have and even cavemen used to give gifts as a way of expressing affection and appreciation. For Christians, giving gifts at Christmas symbolises the tributes the Three Wise Men brought to the baby Jesus.  
Three Personal Homemade Gift Ideas  
1. Kiko Decorations 
Sometimes the best gifts come in small packages. We love our Kiko Box and Triangle Decorations because you can be creative with what you put inside them to make them personal. Whether that's chocolates, sweets, jokes, notes, bracelets or, as Siobhan's children have done, a lovely drawing. You could give these to a friend or relative to hang on their tree at the start of December for them to open as part of their advent countdown. The beauty is that they'll have them to reuse next year too.  
2. Kossi Storage Jars  
Our Kossi Storage Jars are a beautiful gift and a real favourite thanks to their elegant look and attached spoon. However, to make one even better, you can follow Siobhan's example and fill it with homemade granola and add a hand-drawn gift tag. A real treat that anyone would love.  
3. Kiko Brass Photo Frames 
Another of our lovely Kiko products, these frames are one of our all-time bestsellers. Inside, you could put a photo from a treasured memory with that person, a poem that reminds you of them, dried flowers or an old postcard. Whatever it is, make it personal and it will be a very special gift.   
Wrapping Your Gifts  
When it comes to wrapping your gifts, this is another chance to get creative. Of course, there are times when wrapping presents becomes a last-minute rushed affair on Christmas Eve, with hunts for ribbons and scissors and attempts not to have curious treasure seekers find them too early.  
However, we encourage you to see wrapping presents as part of the fun of Christmas. It's a chance to enjoy some mince pies, put on some carols, gather the whole family to take part and get in the festive spirit of generosity. 
Choose eco-friendly wrapping options, such as old scraps of paper, wallpaper or pieces of cloth that can be reused. We love the traditional Japanese furoshiki, which are reusable wrapping cloths that are aesthetically very beautiful with many featuring hemmed edges and hand-painted designs. Maybe you could try creating your own versions of these. 
Did You Know?  
The story behind why we put gifts of oranges in our stockings dates all the way back to the 4th century. The story goes that St. Nicholas heard of a poor man with three daughters. Feeling sorry for them, St. Nicholas went to the man's house and tossed three gold coins into their stockings, which were drying by the fire. Oranges put in stockings today are said to be symbols of that gold.  
If you enjoyed this blog please check out these other stories in our Christmas Traditions series: Festive Table with Steph Gowla and Decorating the Tree with Lou Archell.