At Nkuku, we are careful to work with sustainable materials, whether it's natural woods and eco-friendly crops, or recycled and reclaimed materials. We believe in longevity of design, creating timeless pieces for the home that won't fall in and out of fashion like many trend-led brands. On our journey of sustainability, it's just as important to prolong the life a product as to focus on its origins; looking after things to help them stand the test of time.
We have put together some helpful tips and suggestions on how to look after and care for your Nkuku homewares.
Mango Wood
Products: Table Lamps, Chopping Boards, Board Games, Coffee & Side Tables
We love to work with mango wood. Not only is it a sustainable wood, but it has a beautiful mixed patina that can vary from light to dark. A mango tree has a relatively short life cycle of 12 -15 years; once a tree has stopped bearing fruit it can be harvested to make products whilst new trees are planted, creating a sustainable cycle.
As a rule, we do not treat our mango wood platters and chopping board with any finishes, preferring to keep it simple and natural.  Over time the wood may pick up food oils. The best way to care for the wood is to add a vegetable oil to the wood. This can be any food oil, including olive, walnut, or vegetable. Simply dip some on a dry cloth and rub gently over the surface of the wood. Any marks should disappear, and the oil will provide a layer of protection for ongoing use. It is worth noting that the oil will darken the tone of the wood. 
When you wash your mango wood product, do not leave it soaked in water, instead wash it in warm soapy water and dry immediately with a cloth. This stops the wood taking on too much moisture and prevents any warping or cracking.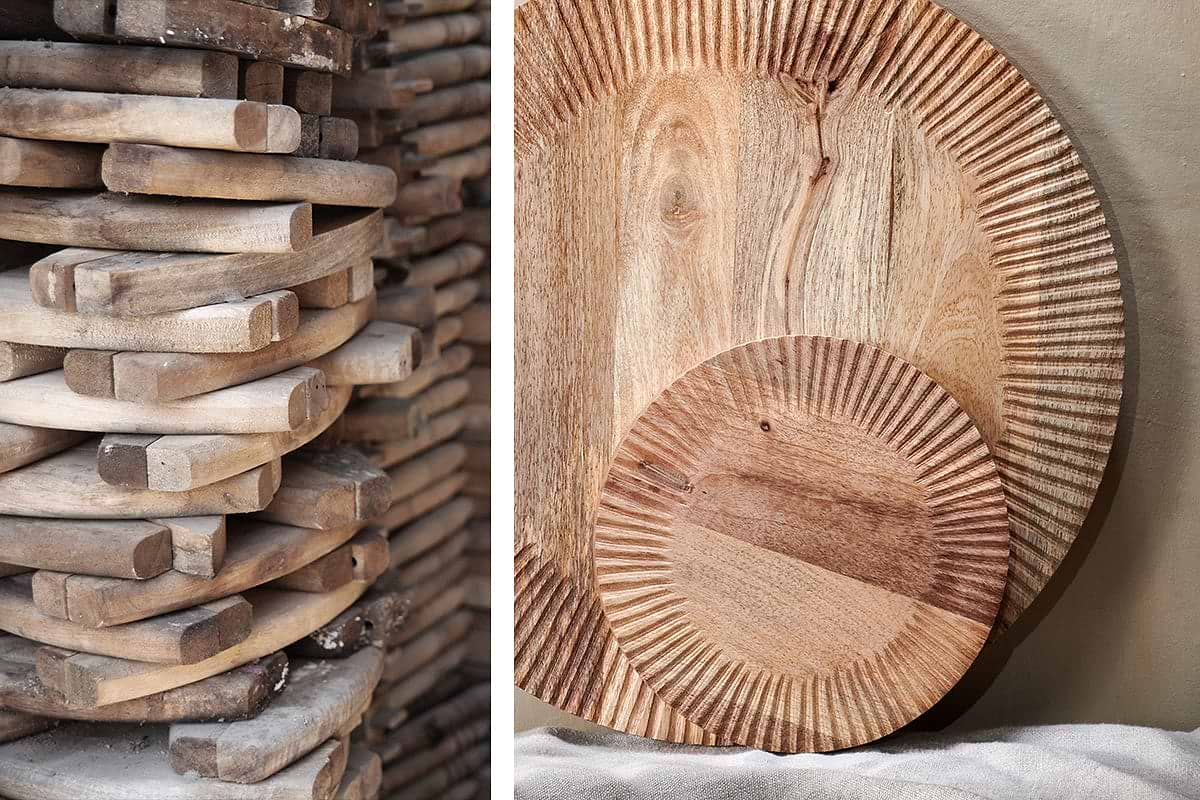 Marble
Products: Serving Platters, Coffee & Side Tables
Marble is a beautiful material to work with, it is however naturally porous which means it will often mark easily. In particular, acidic solutions can mark marble, so avoid using lemons or leaving wine stains on the surface.  For routine spills, the most important thing is to catch them quickly using warm soapy water wash and dry the marble with a soft cotton cloth or tea towel. For something more engrained, create a paste of baking soda and water and leave this on the marble - the soda should absorb and extract the stain.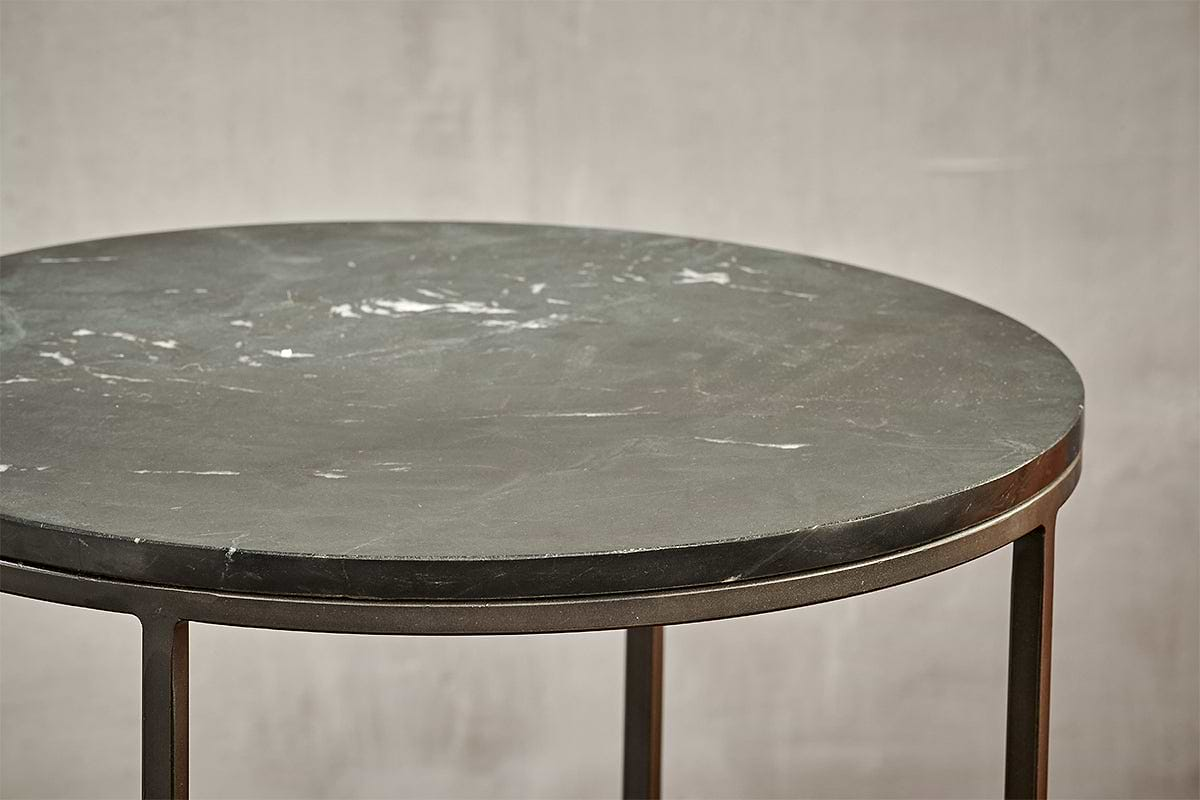 Wooden Tabletops
Products: Dining Tables, Coffee & Side Tables
A kitchen table is an investment piece and probably the most used item in the house, so we know how important it is to look after it.
Kitchen tables take a beating with constant use, whether it's spillages, coffee ring marks or red wine stains, family suppers, children's colouring pens, the list goes on… Part of the charm can be leaving these marks to tell the story of home life, but it can also become a bit of an eye sore. To improve your tabletop there are a few simple steps you can take.
Firstly, clean the table properly, this can be done with a white wine vinegar and water solution (50:50 ratio of each). Then mix some toothpaste and baking soda together to form a paste, (approximately 1 tablespoon of toothpaste and 2 tablespoons of baking soda). Using a dry cloth rub the paste onto the stain, in the direction of the wood grain. Leave it on the stain for a couple of minutes and then repeat the process. Finish by wiping the mark to remove any of the residue paste and the mark should have reduced significantly, if not completely disappeared.
For a deeper burn mark, more likely to come from a hot saucepan, the method required is a more in-depth. Purchase some light sandpaper and carefully sand the area in a circular potion until the mark is removed.  Depending on the size of the burn mark it may be necessary to sand the entire table.
To add a layer of protection to a natural wood tabletop, you can apply a layer of natural wax. If you select a clear wax this will not change the look of the wood.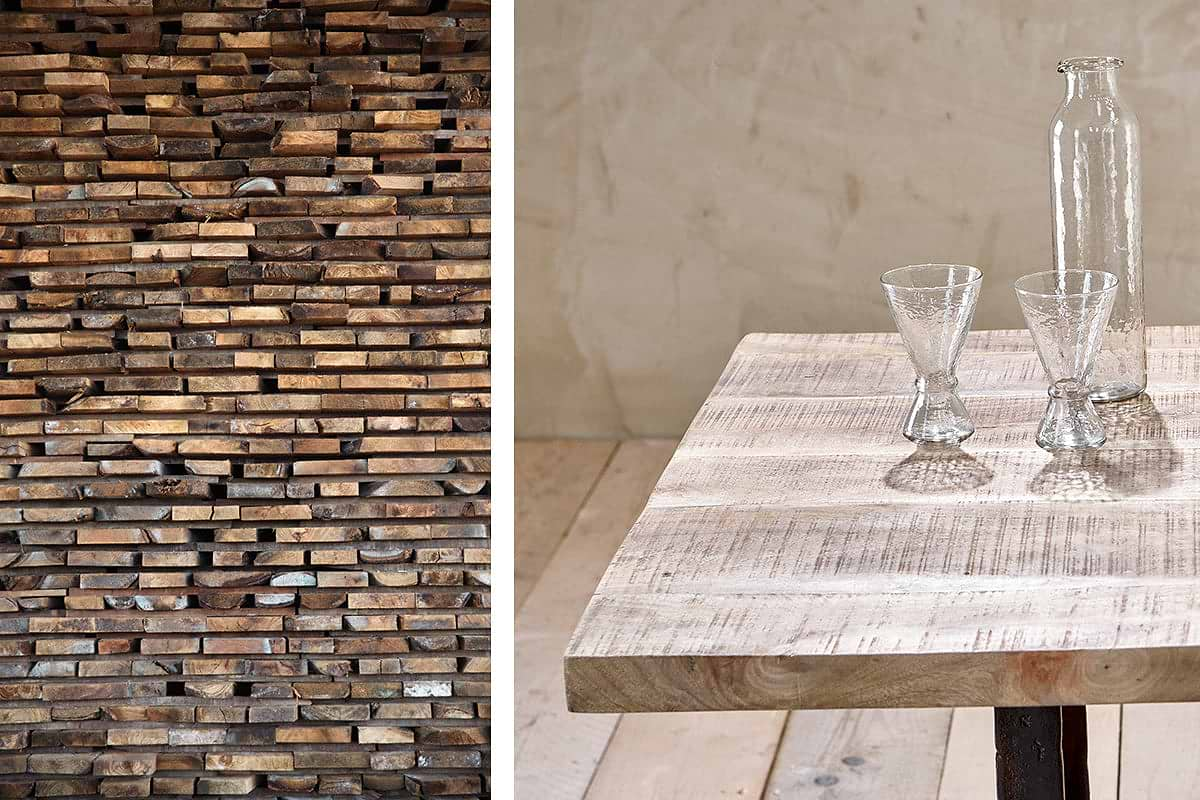 Metal: aluminium, iron & brass
Products: Cabinets, Shelving, Photo Frames, Dining Tables, Dining Chairs
We work with several metals in the creation of our furniture pieces – it's strong, durable and adds appealing design details. Mostly our metals should need very little aftercare; we are careful to add a powder coating to any pieces that are to be used outside or in a bathroom to prevent erosion. In the case of our garden pieces, we recommend a gentle jet wash at the end of the season, making sure any pieces are dry before storing away for the winter.  If you encounter any rusting on your metal piece, treat the area with a rust remover to prevent any further erosion.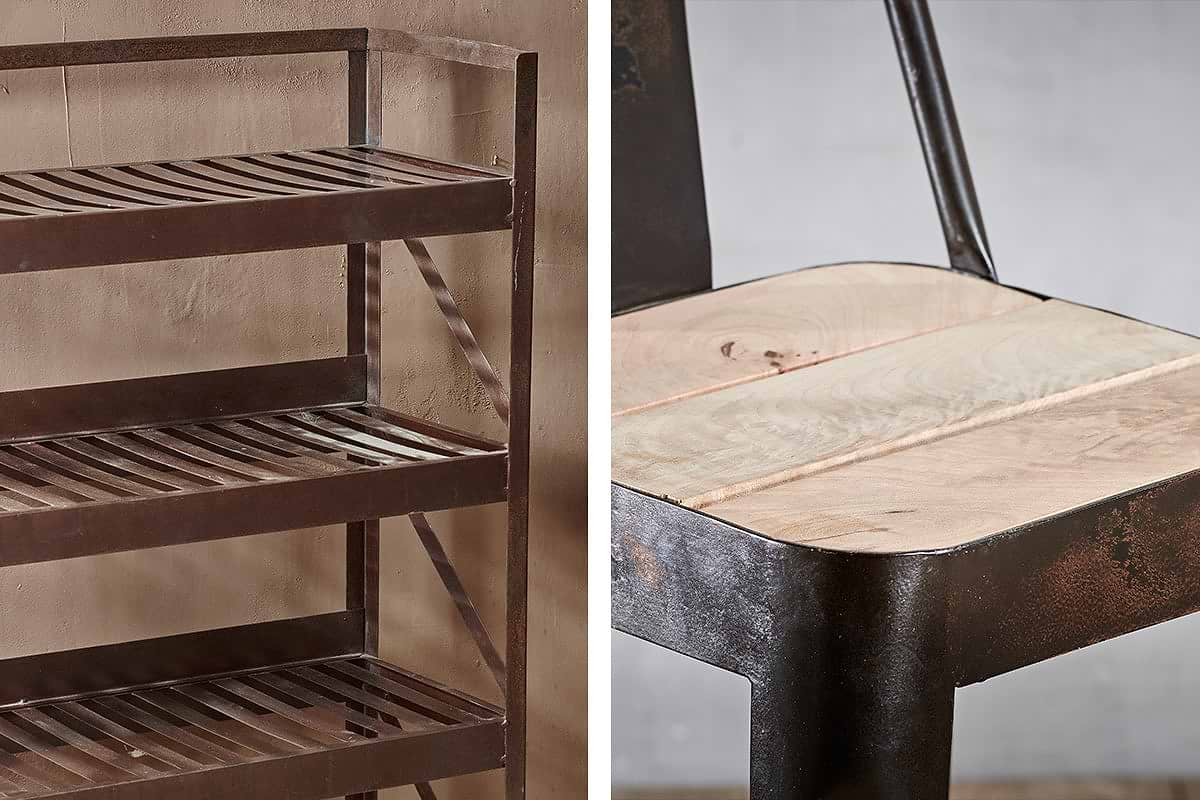 Leather
Products: Armchairs, Loungers, Pouffes, Bar Stools
Leather is perfect for upholstering furniture; it is tactile and supple and leaves a soft and comfortable finish.  The leather we use is rich with character and does include imperfections, which gives an appealing aged look. We do not add any protection to our leather, meaning it will enrich and darken over time, particularly around the arms, where oils are absorbed from hands. To prevent your leather from darkening add a layer of protection with some petroleum jelly, applied with a dry cloth.  This will also help keep the leather soft and supple. Moisture is most likely to stain leather, so if you have spillage dab the moisture quickly away. Avoid using chemicals or abrasive cleaners.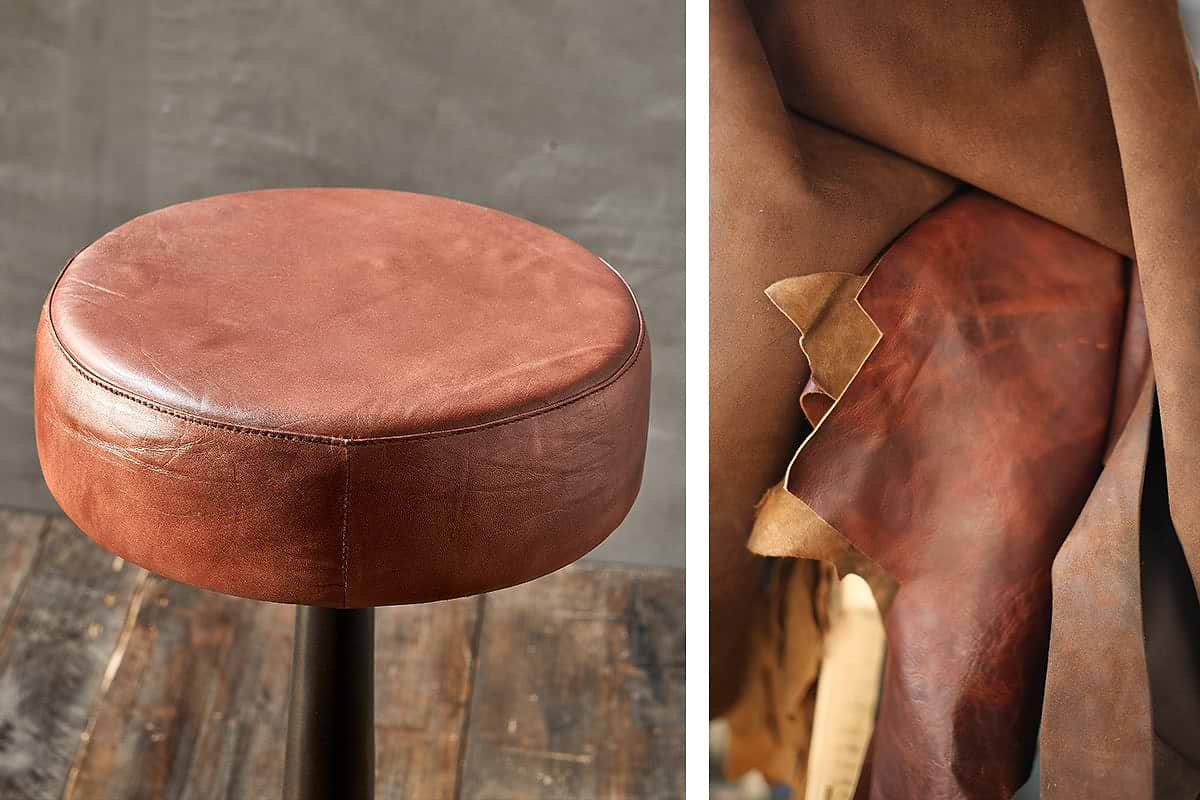 Jute, Hemp and Linen
Products: Rugs, Cushion Covers, Baskets, Sofas, Armchairs
We use natural eco jute, hemp, linen, and recycled materials to create our rugs and cushions, and to upholster our armchairs. The best way to remove marks on any of these pieces is to avoid chemicals all together and simply spot wipe with soap and water. There are some good eco-friendly cleaning agents on the market that will do the job, alternatively white wine vinegar and water works well. We always recommend you spot test an area that is out of sight first.
Jute and hemp fibres may shed, and we recommend the traditional method of beating and airing a rug is a great way to remove loose fibres as well as dust and grit. For our chairs, a soft brush or vacuum can spruce up the kilim and linen.
We avoid using chemical dyes and to help our soft furnishings keep their colour avoid placing them in direct sunlight.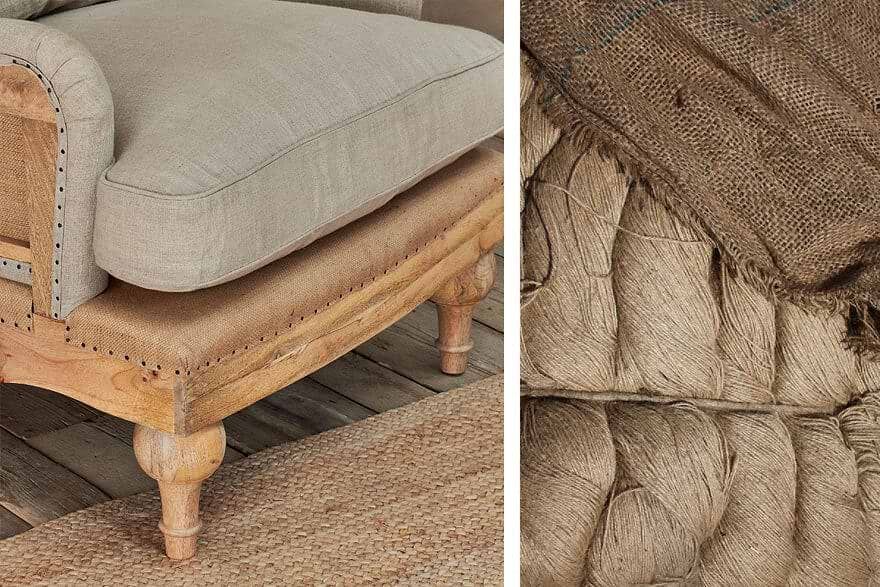 Cotton
Products: Throws, Cushion Covers
Home accessories need to be practical as well as appealing. Our selection of cotton throws is suitable for the washing machine, on an eco-30-degree cycle. Hang them carefully on washing line, avoiding peg marks, or lay them out flat to dry.  Repair any pulls with a needle by pulling them through carefully.
With our cushion covers we recommend airing and removing dust and dirt by shaking and plumping them regularly. You can also brush them with a soft, firm brush or vacuum carefully to avoid dirt becoming embedded in the fabric. To clean spills we recommend dabbing with a dry cloth to absorb moisture quickly. Some of our cushion covers are machine washable at 30 degrees, always check the label as will give you the correct information.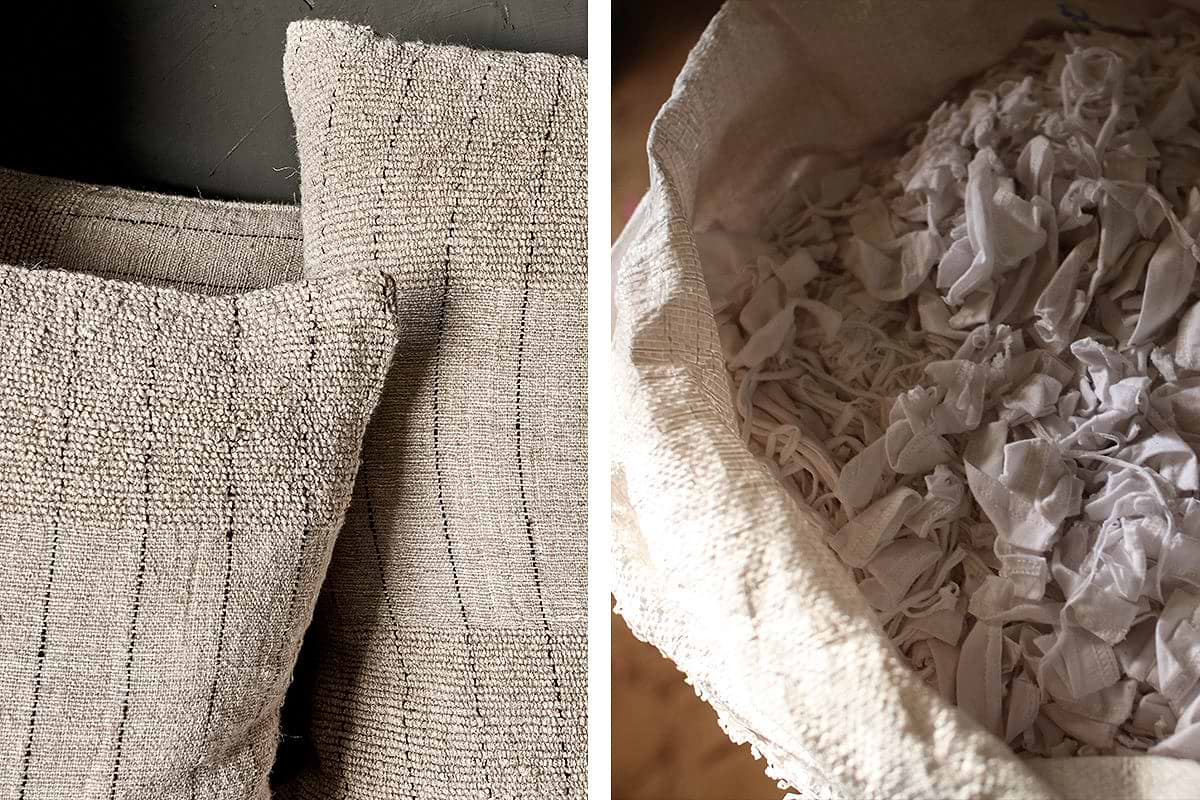 Wood Repairs
Many of our furniture items are made from wood. Strong, naturally beautiful, and timeless it is a great material to work with. Another benefit is how easy it is to repair.  If an item of furniture suffers a serious break it is always worth speaking to a local carpenter. They are miracle workers with wood, from broken legs to chips, you would be amazed how they can make it as good as new.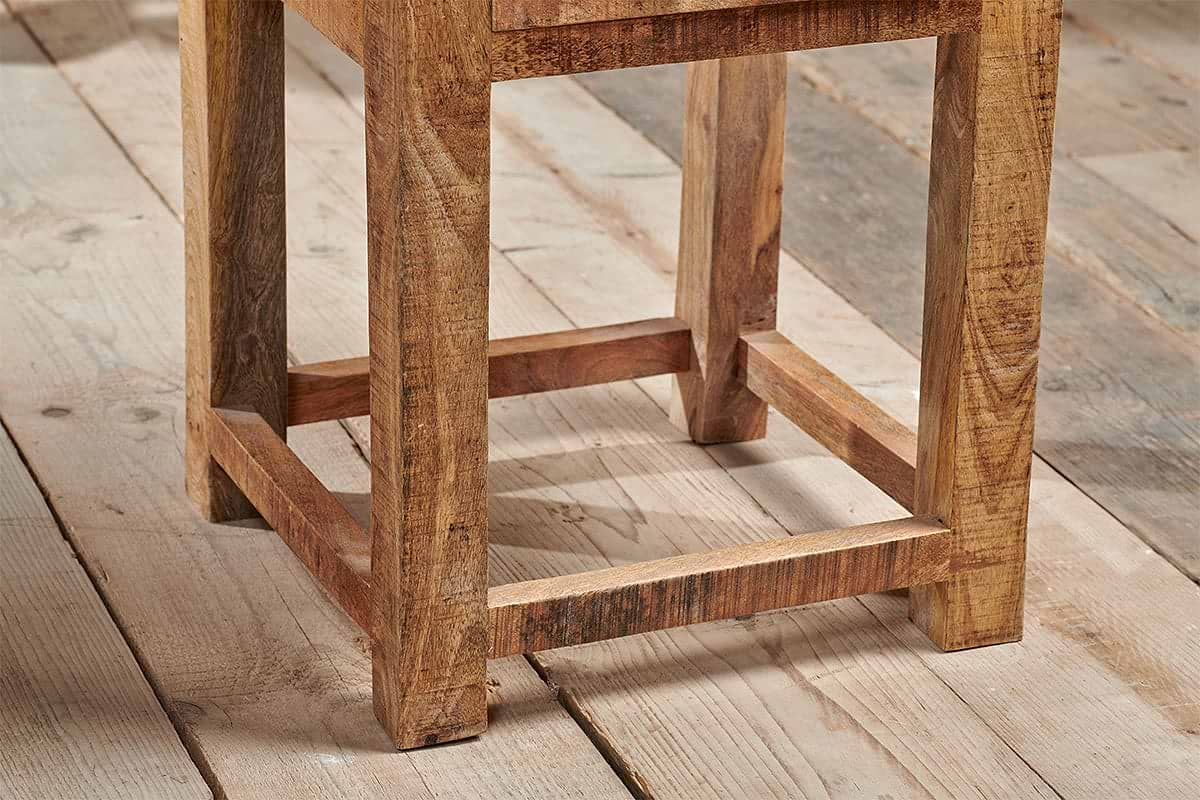 Glass Repairs
If you damage the glass aperture of a frame do not panic, there are glass cutters in most towns throughout the country who can easily cut one to size for you. This is the same with mirrored glass, so it is well worth investigating before writing a product off.
Investing a bit of time in the after care of your items should pay dividends and means that you can pass them on to the next generation to enjoy.