They say a change is as good as a holiday and starting with a deep cleanse of your home makes good sense. Don't worry reviving your home doesn't mean spending lots of money, quite the opposite it's the perfect opportunity to take a fresh look at how home accessories and furniture work in your home and reinvent the way they are used or styled. The principles of feng shui provide the perfect stepping stones to create a well balanced and harmonious living space.
Feng shui stems from the Taoist belief in chi, or the life force that inhabits everything. Chi is made up of yin and yang elements. These are opposing but complementary forces that cannot be separated. Taoists believed that by balancing yin and yang elements, people can improve the flow of positive chi in their lives and keep the negative chi away. Feng shui is a method of balancing yin and yang, and improving the flow of chi by arranging furniture, decorations, buildings, and even whole cities in a beneficial way. The ancient Chinese people believed that arranging things to create positive chi would ensure good health, improve interpersonal relationships, and bring luck and prosperity.
Take inspiration from our short list of suggestions below.
1. Make an Entrance
In feng shui your entry represents how energy enters your homes. To attract energy into your home, you need a welcoming front door and entranceway. From a practical point of view this is also the first impression of your home, so its important to get it right. It needs to be tidy and uplifting. A lot of objects accumulate at your front door. Plan how you use this area carefully and make sure you have lots of storage to tidy things away. A console table with baskets underneath and a bowl for keys, to enhance the aesthetic add an elegant table lamp, a statement vase filled with fresh flowers, hang a striking piece of artwork or a mirror to bring light and make an attractive space.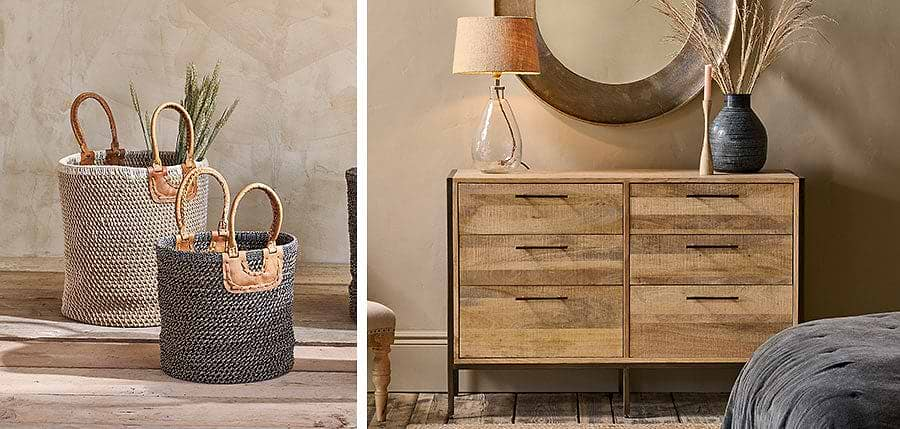 2. Clear the clutter.
The principles of Feng shui suggest that too much mess prevents the energy from flowing and clutters your brain. Feng shui is actually less about de-cluttering and more about creating space. January is the perfect month to spend a rainy afternoon tidying through drawers. Those bits that you just keep moving around the house, it's time for them to go. If you had forgotten you had something, then its highly likely you really don't need it! Go through your wardrobe and remove any clothes that you never wear or have never worn. Even though, they are hidden away in a cupboard you will still feel better. Neatly bag up your items and drop off with your local charity shop. Removing excess clutter really does clear your mind and creating space also gives you a clean palette to rethink you're your spaces.
3. Make sure your home has natural light and fresh air.
Air is considered a key component to the very meaning of Feng shui, it must be allowed in. A combination of natural light and air will bring in good energy and rejuvenation. Sunlight naturally energizes and wakes us up. Sunlight also vibrantly renders all the colours and objects that we see. Therefore, our homes become more expansive, vibrant, and energetic when we let in more light.  It can be hard in the winter months, but even natural light from a grey day has benefit. Opening a window each morning even just for a short while will help with air circulation and stop a room feeling stifled and stuffy.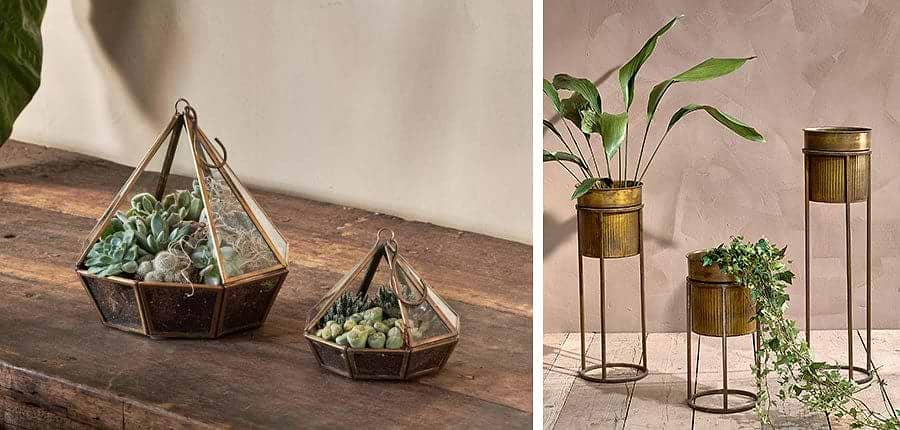 4. Use house plants to bring life and energy.
In Feng shui, plants embody life energy, green house plants connect us to nature and bring vibrancy into our homes. The most important thing to remember is to find plants that you can care for and are appropriate for the space. For example, take your lighting conditions into consideration. Add natural elements with tactile, natural materials from wooden furniture to soft tactile linens.
5. The Commanding Position.
One of the most important principles in Feng shui is the commanding position. This governs how you can position yourself in life. Feng shui suggests a bed and desk should be placed facing towards doorways. Facing the entrance increases power and minimizes vulnerability. When you are in these spaces, be sure that you can see the door without being directly in line with it. When you are in a commanding position, you are in command of your life. You can receive positive energy and the best opportunities.
6. Remove any obstacles in your path
Flow is an important consideration. Evaluate your daily path and flow through your home. From the moment you wake up and head to the shower, through heading out the door. You also need to consider the flow around your desk or bed, making sure there is enough space to manoeuvre and not feel enclosed. Equally, in a living space even a small tweak such as moving your sofa into a slightly different position or moving a side table or standing lamp to a different side of an armchair or sofa, can create a better flow and give a new perspective on your living space.