Summer feels only moments away with long alfresco lunches and evening suppers just around the corner. Head chef of the Riverford Field Kitchen James Dodd has kindly shared some mouth-watering recipes made with organic, seasonal produce; supporting the ethos that the closer you are to the source of the food the better it will taste.

GRILLED AUBERGINE, FETA, OLIVE & MINT SALAD

Serve this salad at room temperature to enjoy the flavours at their best. Grilling the aubergines on a barbecue would be even better, heightening their smoky flavour.

about 6 tbsp pine nuts
2 garlic cloves, crushed to a paste
5 tbsp balsamic vinegar
150–200ml extra virgin olive oil
3 aubergines, sliced lengthways 5mm thick
approx. 160g feta, crumbled
good handful of black olives, e.g. Kalamata, pitted and halved
handful of basil leaves
handful of mint leaves
salt and black pepper

Lightly toast the pine nuts in a dry frying pan, tossing them frequently, until golden. Make a dressing by whisking the crushed garlic with the vinegar, olive oil and salt and pepper to taste. How much oil you need will depend on the strength of your balsamic vinegar, and personal taste. Go easy on the salt as the feta and olives will all be a little salty anyway. Heat a cast-iron griddle pan until very hot. Brush or rub the aubergines with some of the dressing (just enough to coat on both sides) and grill them in batches until they are soft to their centres and have nice grill marks, about 3–4 minutes on each side. Assemble the salad by layering the aubergine with the pine nuts, feta and olives and drizzling the remaining dressing over as you go. Finish by tearing or finely slicing the basil and mint leaves and scattering them over the top.

You could also make this recipe with grilled courgette strips.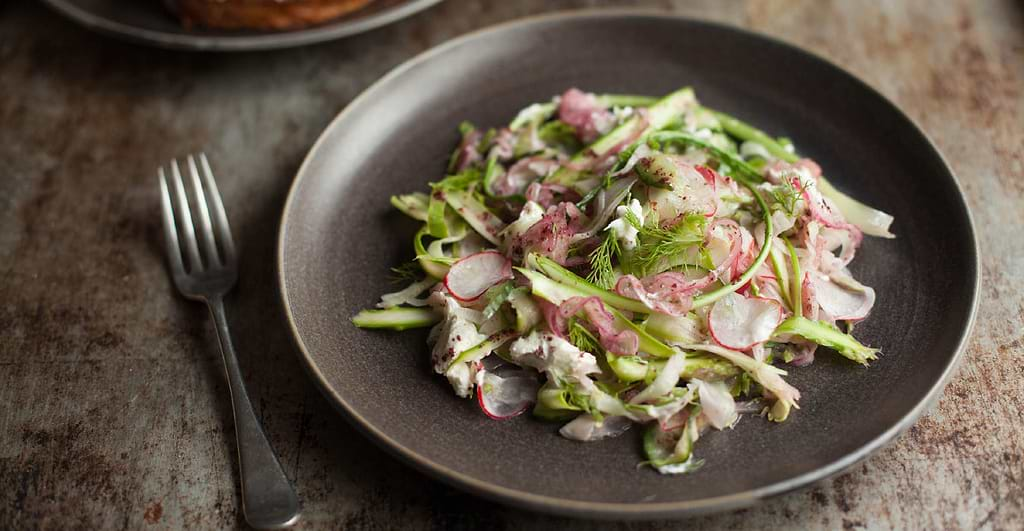 SHAVED SPRING VEGETABLE SALAD WITH LABNEH

This is an adaptation of a dish James used to make when he worked for Mark Hix. It uses a Japanese mandolin to thinly slice the vegetables - an effect which is almost impossible to achieve with a knife; using a peeler to peel strips will create a similar effect. The original dish is a little simpler and contains only fennel, asparagus and dressing but James has given it a bit more of a Middle Eastern twist.

Serves 2 as a light starter

bunch of asparagus
2 bulbs fennel, reserve leafy tops
1 puntarelle, if available
bunch of radishes, with leaves if possible, washed then torn
2 spring onions, washed & sliced
2 red onions
½ tsp ground allspice
pinch of salt
pinch of sugar
pinch of sumac
60-100ml red wine vinegar
splash of olive oil
200g labneh, or feta

Start by slicing the red onions with the mandolin, or very finely with a knife. In a bowl, mix the sliced onions, sugar, salt, sumac, allspice and vinegar - scrunch the onions between your fingers to thoroughly combine all the ingredients and set aside for at least 1 hour to macerate. Next, using the mandolin, or peeler, slice all the vegetables into strips. Toss the vegetable strips with the red onion mixture, spring onions, fennel tops, olive oil and radish leaves. Adjust seasoning to taste. Pile on a plate and either dot with labneh or crumble with feta.

Discover more delicious recipes at www.riverford.co.uk/recipes