Nakuru Iron & Glass Desk
2-Person Specialist Courier (within 7 working days)
This item qualifies for our specialist courier service
Product description
With its slimline brass frame and generous glass panels, our Nakura desk is both elegant and practical. Well-designed and robust, it makes a stylish addition to your study or bedroom. The brass adds warmth while the expanse of glass brings a contemporary feel. Its large surface area comfortably fits a laptop and other accessories. Two compartments make it easy to store your belongings while keeping the top of the desk clear. Style with a brass desk chair for a sophisticated aesthetic
Product details
Dimensions (h x w x d)

78 x 150 x 80cm
Care instructions
Please take care when handling or moving furniture, as careless handling may result in damage or injury. This product should only be used on firm and level ground and not placed in areas of extreme heat. Do not place very hot or cold items directly onto the glass surface. Do not strike the glass with hard or pointed items.To care for your glass, use a glass cleaner or wash in warm soapy water. Metal surfaces can be cleaned using a damp cloth. Do not use anything abrasive, or use harsh chemicals on the glass or metal as this may damage the surface of the product. Dry and polish with a soft non-abrasive cloth
Delivery & return options
Delivery (UK Mainland Only)
2-person specialist courier - 7 working days - £20
Delivery of this item will be made by our specialist courier, Furdeco. You will receive an email or SMS message within 3 working days of placing your order to confirm a delivery day. Please note, if your item is pre ordered, the courier will be in touch once stock is available.
Visit our delivery page for more details
Returns
Should you wish to return this item for a refund, we can organise a collection from your home on a day of your choice. This item is classed as: Medium. The cost to return this item will be £60 which will be deducted from your refund on return.
For more information on returns please click here.
View our
Delivery page
for more details.
Ethical. Eco-Friendly. Handmade.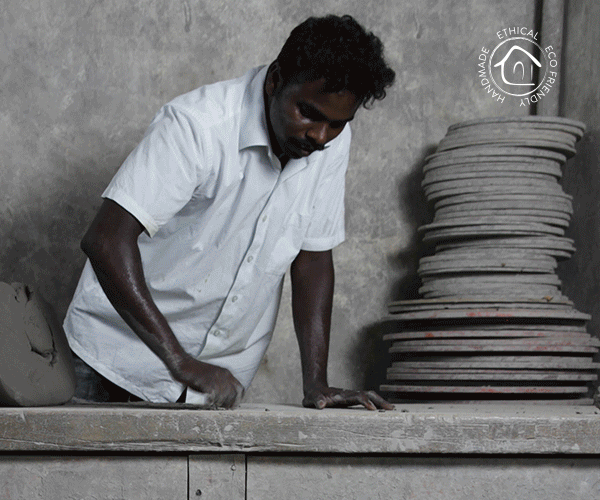 Local metal workers skilfully solder around the glass using traditional techniques. This handmade process means that there are weld marks on the joins of each piece, an honest feature that we love as it tells the story of how the product is made.
Discover more