Eskaya Recylcled Glass Standing Lantern - Clear
Free standard delivery (within 5 working days)
On orders over £100
Next day delivery
On orders placed before 1pm Monday to Thursday
Product description
Set an ambient mood with the Eskaya standing glass lantern. The ribbed glass finish on this cylindrical shaped lantern gently filters the candlelight. The simple black stand elevates the lantern to create more impact. The Eskaya standing lantern is the ideal piece to light up a dark corner in a room or transport it outside on warmer evenings and add some soft lighting to an alfresco scene. The Eskaya standing lantern is crafted from recycled glass and has clear glass finish.
Product details
Dimensions (h x w x d)

45 x 16 x 16cm
Care instructions
Floor Candle holders should only be used on firm, level ground. Ensure the pillar candle is securely positioned in the candle holder before each use. Never position near drapery. Avoid positioning next to, or over upholstered furniture or carpeted surfaces. This product will get hot in use. Keep out of reach of children. Wait until fully cooled before handling. Never leave a burning candle unattended. To care for the item, we recommend washing with a mild dish soap and warm water to remove any excess wax after every use to prevent a build up. Please do not use harsh chemicals or abrasive cleaners as this may damage the finish.
Delivery & return options
UK
Free Standard Delivery on orders over £100 (Excluding Delivery)
Standard Delivery within 3 - 5 working days (Under £100) - £4.95
Orders under £15 (Excluding Delivery) Standard Delivery within 3 - 5 working days - £7.55

Next Day Delivery on orders placed before 1pm on Monday - Thursday - £7.95

We work with Yodel and DPD for standard delivery items and specialist courier Furdeco for our larger items.

Visit our delivery page for more details.

International Deliveries

Delivery costs and lead times for shipping outside of the UK will be calculated at the checkout. These will be based on your location and order size.

Visit our delivery page for more details.

Returns

To return any unwanted items, click here for our recommended services.

For further information, please visit our help centre.
View our
Delivery page
for more details.
Ethical. Eco-Friendly. Handmade.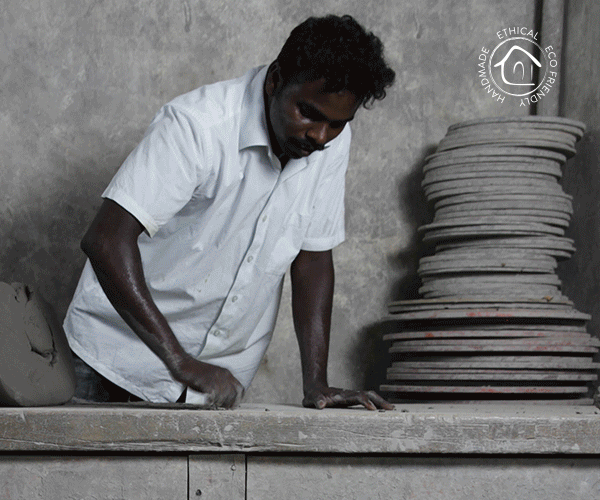 Local metal workers skilfully solder around the glass using traditional techniques. This handmade process means that there are weld marks on the joins of each piece, an honest feature that we love as it tells the story of how the product is made.
Discover more
Eskaya Recylcled Glass Standing Lantern - Clear